An Intimate Look at Four Asian Men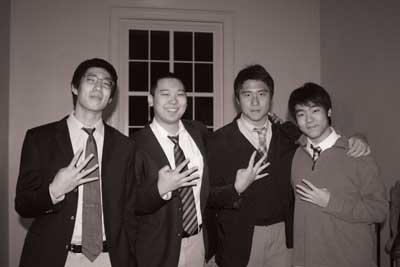 Self-proclaimed to be the single most famous Korean boy-band ever to hit the Deerfield campus, 4AM has yet to make it to the top of the charts. But, the group certainly seems headed that way.
The fun-loving group, composed of Phil Hah '11, Curtis Oh '11, Michael Yang '11, and James Yang '12, has performed on and off campus for over a year.
The group was assembled in fall 2009 when Michael Yang asked his new, fellow Korean Mello-Ds to sing a Korean love-ballad titled "Confession of a Friend" by 2AM. The boys rallied behind his idea at the winter KFC, but they forgot to rehearse their song until the Friday of the concert. Luckily, the concert was postponed until Saturday night.
That Friday night, the four boys slept over in Michael Yang's room in Louis Marx to practice the tune. After hours of rehearsal, they finally felt confident in their sound, but by then it was four o'clock in the morning. On the roster for the concert the group decided to call themselves 4AM as a play off of the Korean band 2AM and their bedtime the night before.
Minutes before performing on stage, Chris Hamlin '12 asked the boys what 4AM stood for. Before they had time to respond, Hamlin quickly asked, "Is it Four Asian Men?"
4AM was also tapped to perform at the annual trustees' dinner in New York City in October, 2010.
Michael Yang, Oh, and James Yang are fluent in Korean. Though Hah grew up in the United States, he speaks enough of the language that he can pick up the pronunciation of the lyrics quickly.
Oh commented that because Hah can reach such high notes, the group "couldn't possibly sing half of the songs without him." He jokingly added, "If modern-day pop songs didn't require such high notes, we wouldn't require Phil!"
The group has faced other challenges including teaching James Yang how to rap, receiving noise complaints from neighbors about Michael Yang's uncontrollable volume, and dealing with Oh's unnecessary attempts to harmonize every note.
James Yang commented that all four boys get along well, and there have not been any "boy-band fights." However, with three of the four crooners graduating this year, 4AM will probably break up.
Regardless of the fate and future of 4AM, this stylish group will live on in Deerfield legend for a long time as the band that sensationalized Korean Pop on campus.