Jared Pantalony '18 stared dead into the Cushing batter's eyes during his signature start of the year. Pantalony knew he had him beat before he threw the ball because of the endless hours he'd put into the art of the pitch. He knew he had him beat before the Cushing batter whiffed on the change-up for strike three. Pantalony knew the batter had no shot because of the work he put put in off the field and the support he had on the field. Pantalony finished the Cushing game with four hits, four walks, and five strikeouts in his seven innings on the mound.
Pantalony is known to be a great person on and off the diamond. His laughter and  signature smirk is infectious, and his infatuation for the word "zoot" can put a smile on anyone's face. He's also no stranger to the bright lights. He's had a love for baseball ever since he was four.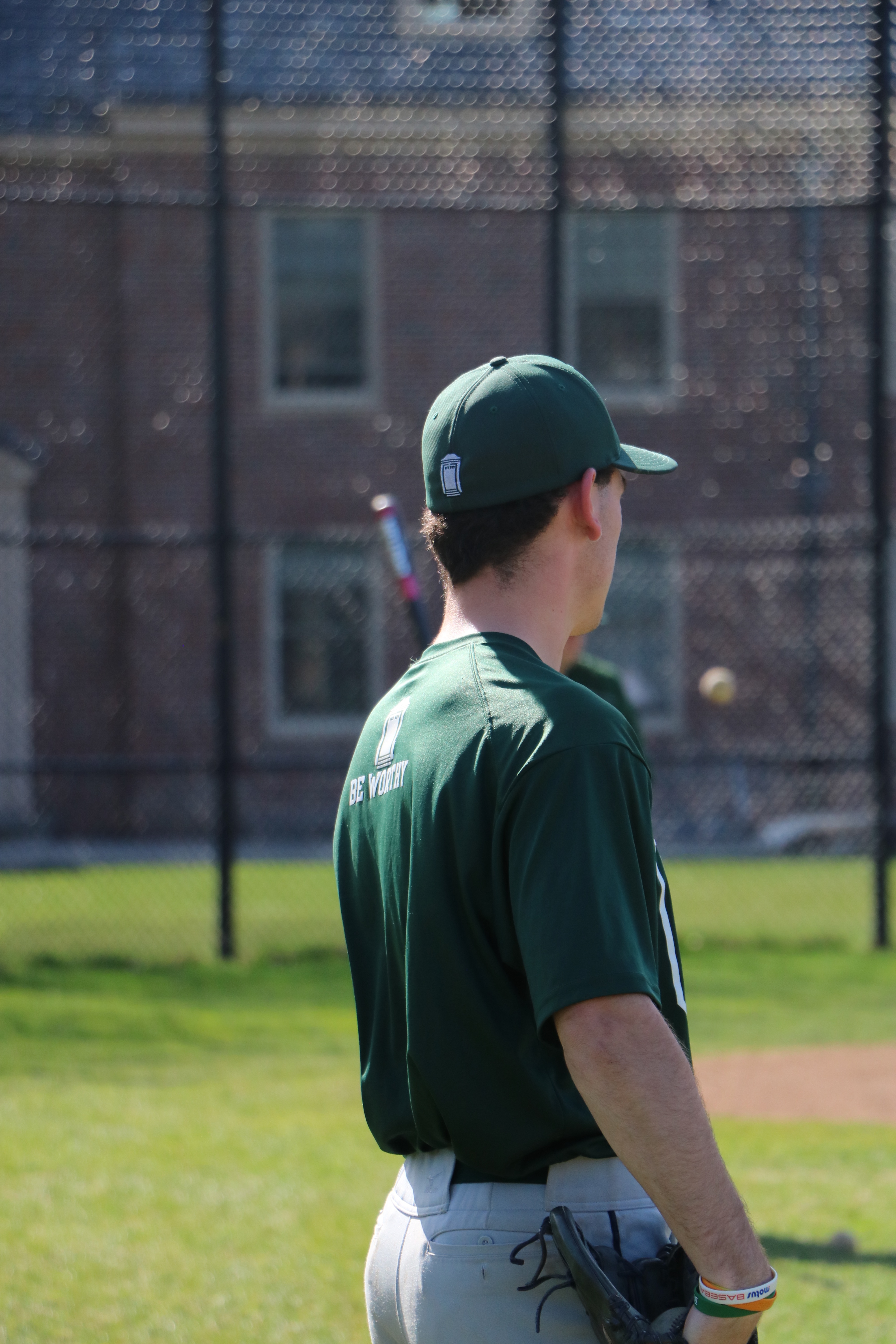 Whether he's painting the strike-zone or sniping with equal precision on Fortnite, Jared loves a good competition.
"On the field and off, he's a tenacious, competitive guy," said teammate Sameer Sharma '18. "His competitiveness sets him apart from any pitcher I've ever played against."
"If there's anyone I try to model my game after, it's Tom Glavine," Pantalony said. Tom Glavine was a fan-favorite pitcher for Pantalony's favorite team, the New York Mets, from 2003–2007. "He didn't necessarily have the best stuff, but he mixed up his pitches and competed on every play."
Coach Patrick Moriarty described Pantalony as "a consummate team player, who consistently leads by example."
"He doesn't have a mindset for losing," said teammate Levi Constant '19. "He takes ownership of every game he plays, and he keeps you accountable for holding up your end."
Some of the keys to Pantalony's success have been hard work, trusting himself, and being motivated to put the team in a position to win whenever he pitches. The new energy Coach Moriarty has brought to the team has also been apparent.
"The attitude has been extremely positive compared to recent years," Pantalony said. "Everyone wants to compete and get better."
Pantalony's favorite memory on the baseball team is split between the two wins against Exeter and Worcester earlier this season.
"Both of the teams blew us out the last two years. I think it's shown our progress as a team, and it's been a lot of fun to be a part of," he said.
"Keep napping, that's our motto." Pantalony said with a grin. "We've caught a lot of teams by surprise this year. We definitely play with a sort of chip on our shoulders."
Pantalony's current goal is to make the playoffs. Even with two close losses on the backburner, the league is tight enough that the team still has the chance to control its own destiny.
Moving forward, Pantalony hopes the baseball program maintains the camaraderie and competitive spirit of this year's team. Pantalony says he is most proud of the turnaround he and the twelve other seniors have seen over their tenure. The baseball program at Deerfield has begun to make a name for itself within the New England Prep League, and this is thanks in great part to the leadership of the thirteen team members, with Pantalony leading the charge.
Moving forward in his own career, Pantalony will be playing Division III baseball at Bates College in Lewiston, Maine next year. Pantalony is excited about continuing his career on the mound through college, and couldn't be happier to be doing it at Bates.
When asked what he would change about his Deerfield experience Pantalony responded with, "I wouldn't go back and change a thing," "Nothing?" "Nothing."