On Sunday, January 29th, a group of Deerfield students travelled to Yale University for the day to learn about architecture and art from Deerfield alumnus George Knight '85. Mr. Knight graduated with a Master's in Architecture from Yale University and has taught architecture at the university since 2004.
For the Deerfield students, this was an opportunity to learn and engage in the subjects of architecture and art beyond the classroom. Mr. Knight generously offered to lead the trip for Deerfield students. Ms. Mercedes Taylor, Deerfield Spanish and art teacher and one of the trip's faculty leaders along with Ms. Hemphill, said, "[Mr. Knight] offered his expertise and the opportunity for us as a school to visit, as he would be willing to take us around on a tour."
The students travelled to two museums over the course of the day: the Center for British Art and the Yale Art Gallery. The trip was focused around these two buildings, both designed by the renowned architect, Louis Kahn.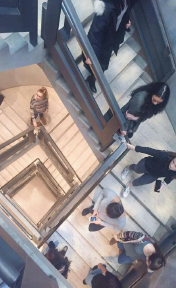 Daniella Faura '17 appreciated the opportunity to learn about Kahn's work: "It was interesting to see Louis Kahn's architecture, as I had never really known him as an architect. Through Mr. Knight's teaching, I was able to learn a lot about his specific style."
Alina Xu '17, a student in Post-AP Topics Art, spoke about the opportunity to look beyond the artwork and appreciate the building that housed it: "Being an art student, I was initially drawn more to the artwork in each gallery, but hearing Mr. Knight describe the decisions [Kahn] made while designing each building made me appreciate the role that architecture plays in museums."
However, not all students in attendance were studying art or architecture. Ally Bazarian '18 explained why she attended the trip despite not taking an art or architecture course at Deerfield: "I'm really passionate about architecture, and I thought it would be a great experience to hear from an expert in his field." She also appreciated the contrast in the two buildings built by the same architect, saying: "I loved watching the switch between the first gallery and the second one…the change in architecture showed the evolution of the person as he got older and his thoughts changed."
The range of the artwork that the two galleries exhibited left an impression on the students. Faura expressed her appreciation for the artwork in both galleries: "I didn't realize how much of an extensive collection the two galleries had."
Faura also spoke about the connections with the curriculum in her current art class: "We saw a Jackson Pollock piece, … we had done still-life's with his art style in Topics. We also were able to see "Constables" in the British Art Gallery, which were the inspiration for another project we did."
Beyond just the art and architecture in the galleries, students were able to see and appreciate the architectural significance of the buildings of Yale University's campus.
Faura said, "I loved walking around Yale's campus. I never had gone around a school or really anywhere to look at the buildings themselves. It opened my eyes to a different type of perspective to look at a building and appreciate its beauty and structure and function and how that all comes together."