What started in 2004 as Visual Arts teacher David Dickinson's idea of a talent show to keep students entertained has evolved into KFC, Koch Friday Concert–, a fun and unique way to showcase student creativity.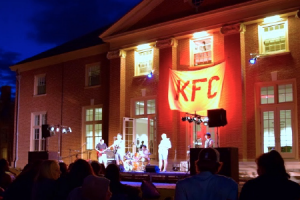 "It's a venue where's there's no judgment," said Mr. Dickinson. "You decide what you're going to perform—it's up to you to practice."
Students continues to amaze him each time. "They really rise to the occasion. There is incredible talent," Mr. Dickinson shared.
In 2010, Mr. Dickinson chose 13 of the acts from KFC to perform at the 1797 trustee dinner in New York City. "They knocked the audience out of their chairs," he recalled.
The biannual show has become a Deerfield tradition. KFC takes place in the Starfield in the winter, and (if weather permits) on the lawn outside the Hess Center in the spring.
"There isn't a fall KFC because we need to give new kids some time to figure everything out first," said Mr. Dickinson.
Planning KFC is no easy task. Mr. Dickinson noted, "It's a lot of effort to organize everything. Mrs. Scarborough and I get together way in advance to put the playlist together." Almost 50 acts signed up to perform in this spring's KFC, which is the most in Deerfield's KFC history.
Many old performers took the stage for their last KFC show. Zibo Gao '15 said, "I think it's the best KFC Deerfield has had in a while. This year we have so much talent." Gao's favorite act he was a part of was Coldplay's "Yellow." He explained, "It just felt like Yellow."
Spontaneous acts also took the stage. Michael Beit '15, who performed Eminem's "Love the Way You Lie" with Garam Noh '15, said, "We didn't plan on performing originally, but we begged Ms. Lyons, went backstage, prepared it in 10 minutes and went on stage."
With kids spread out on blankets across the Hess Center lawn, the scene resembled a music festival. The audience, who Mr. Dickinson notes, was incredibly "supportive and enthusiastic," was especially happy to be munching on Chick-Fil-A, supplied by the Relay for Life committee .
Mr. Dickinson and his wife, French teacher Claudia Lyons, were very happy with the way this spring's KFC turned out: "We are exhausted but, like usual, totally blown away."