Frank Henry '69 arrived at Deerfield Academy in September 1967 as a new junior. Mr. Henry, the son of an alumnus, had grown up in Cleveland, Ohio, reading the Deerfield magazine and comparing Deerfield to his all-boys day school.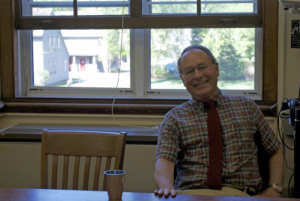 Mr. Henry stated, "I had done pretty well at my day school, and I wondered, am I up to it? It was almost a gesture of testing myself to try and go to Deerfield and see. I had made it at my little school. [Could] I make it at a big school like Deerfield?"
When Mr. Henry arrived on campus in September, he was put in Dean Hall, a dormitory behind the Memorial Building with all the new juniors.
"They segregated us, so we made the best of it. We played squash off the back of the Memorial Building [and hooked]up ropes, so we could swing out over the bank," said Mr. Henry.
At DA, he fondly remembers being on an undefeated soccer team that unexpectedly won the WNEPSSA (Western New England Prep School Soccer Association) Championships. Looking back, he explained that the experience "created delusions in my mind about my potential as a soccer player."
He recalled having "very little self awareness about what we were doing," mostly because "the coach… never once brought up the fact that we were doing very well."
Mr. Henry also recalled when the Deerfield Glee Club, consisting of about 120 boys, sang at an event for Head of School Frank Boyden's retirement in New York City. He explained the trip as a "larger than life experience."
Mr. Henry stated that his greatest influence was English teacher Bob McGlynn because "he demonstrated that [the] life of the mind was adequate. That it was perfectly [acceptable to live] without having to aspire to wealth, fame, power, and position." He added, "And I think that was his most benevolent gift to me."
After graduating from Deerfield and attending Princeton University, Mr. Henry went to graduate school and then worked in small business. When he realized he missed Deerfield, he came back and worked as a development officer. However, after deciding that this profession did not suit him, Mr. Henry went to Harvard's Graduate School of Education and worked at another school teaching English.
Mr. Henry returned to Deerfield in September of 1982. He explained, "I wanted to be back here, because it seemed that if you were going to teach somewhere, this was about the nicest place. It was beautiful. I liked the boys. I liked my colleagues. What a great place to spend a life!"
Mr. Henry said that during his time at Deerfield, the best teaching moments have been when he sees "a real transformation from a juvenile thinker to an adult thinker." He loves witnessing growth and "particularly admires those freshmen who grow up and can retain some of the childlike wonder and spontaneity [while maturing] into really nuanced, careful, logical, intuitive thinkers."
Mr. Henry also remarked, however, that "one of the aspects of Deerfield that has demoralized me is the intrusion [of digital media into our] daily lives." Mr. Henry describes a time when "we used to have a couple of volleyball courts behind John Williams," courts that were very popular and widely used. "It was just great to see boys and girls together outdoors. . . There is just nothing on the screen that is more rewarding than going out and tossing a Frisbee [or] going to the river and throwing rocks."
Bernie Baker, Mr. Henry's co-teacher in American Studies, described Mr. Henry as "the consummate educator-deeply devoted to his students and the craft of teaching, fully engaged in the total life of the Academy." Baker added, "Team-teaching with him for 16 years has been an absolute joy."
Annie Blasberg '16 also commented, "I remember sitting in Mr. Henry's English class freshman year with a blank face and trembling hands hidden beneath the table whenever he asked a question, which left everyone confused about whether or not it was rhetoric. Since then, he has become my advisor and has shown infinite interest in my success as a student, athlete and person. He holds his students to high standards. . . and expects [a lot], but also highlights the importance of improvement over time."
Adeleke McMillan '17 echoed Blasberg's sentiments, saying, "Mr. Henry has been my rock for both of my years at Deerfield. He has helped me grow not only academically, but also as a person."
Mr. Henry has decided to retire from teaching at Deerfield this year.
"I think Deerfield right now is undergoing a great deal of change, and I have tried to keep up in my own way with all that change, but I'm finding that, at my age, I am not as flexible or durable as one needs to be at Deerfield, given the demands placed on the faculty, as I once was. And rather than stay on too long, I just decided it was better to cut short and leave before I become a caricature of myself."
Mr. Henry will spend the next year as the interim Head of The Bement School, after having served on the school's Board of Trustees for 14 years.
"It seemed like a very easy solution. . . and it meant that I would not have to leave town. The wrench of leaving the school and of leaving town at the same time would have been very upsetting," Mr. Henry explained. "But this allows me to stay on another year, and I imagine I will walk the Small Loop, [or] wander up and watch a [Wednesday] game."
Mr. Henry hopes that "there might even be students that I have taught that drift down to Bement to come say hello."