Peterson: From The Diamond To The Dock
Last year, Josh Peterson '15 started thinking about leaving his rural Texas hometown for a postgraduate year. When Peterson learned about Deerfield Academy, he approached history teacher and varsity basketball coach Conrad Pitcher and former Admissions Officer and baseball coach David Irwin.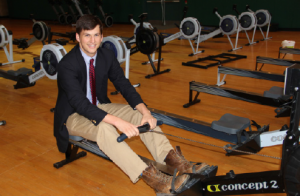 Although Peterson plays football and basketball, he "wanted to go to a small Division III school for baseball."
When he first visited Deerfield, Peterson interviewed with Mr. Irwin, and a few months later he decided to become a Deerfield student-athlete. However, Peterson soon found out that Mr. Irwin was leaving Deerfield to work at Cardigan Mountain School. "When I found out Coach Irwin was not coming back," he admitted, "I was rattled."
This past fall, Peterson wanted to focus on his grades, so he abandoned the football pads and lower levels for Special Exercise. One day, while Peterson was working out, classmate and rower Charlie Ughetta '15 suggested he try to erg, but Peterson "didn't really think much of it."
A few weeks later, Ughetta convinced Peterson to attend a crew meeting, which was a mix of new and returning rowers alike. As his interest in rowing grew, Peterson started to work out with College Advisor and crew coach Spencer Washburn. Soon thereafter, Mr. Washburn mentioned the possibility of Peterson's rowing crew in college.
Although he came to Deerfield with the intent to play baseball at a NEPSAC school, Peterson was now going on official visits to Dartmouth and UC Berkeley for crew. When Peterson got on the water for the very first time in Florida during preseason, he already knew he was going to Berkeley.
Although new to Deerfield this year, Mr. Washburn has been around crew since his childhood and is starting his tenth year coaching. While Peterson's individual experience as a PG is unique at Deerfield, Mr. Washburn noted, "Many talented athletes come to rowing later in their careers and find great success. Many of our Olympic rowers didn't begin their careers until college."
The college recruiting process for crew, Mr. Washburn explained, is very similar to that of other sports. "Much of the process,' he said 'is about projecting potential and assessing the personality and character of the prospect."
Mr. Washburn spoke to Peterson's exceptional potential as a rower: "Rowing is a leverage sport, and Josh has the height and length to really excel. However, rowing demands a great deal of work, so having the right frame will only take you so far. Josh has shown me that he has the right pieces, physically and mentally, to do well."
Though still new to rowing, Peterson explained that he has developed an entirely new athletic mindset as he transitions from baseball pitcher to rower. Even though he misses baseball, Peterson has an evident enthusiasm for crew: "There is no better feeling than all of your hard work paying off and gliding in front of the other boat."