DA Music Tour: Heart And Soul
For many Deerfield students, spring break was a welcome vacation. However, 30 musicians involved in orchestra and choir spent the two-week interval on the first-ever Deerfield music tour.
The tour was divided into two parts: 10 days in Korea and 4 days in Hong Kong. During their stay, not only did the students rehearse and perform, but they also had many opportunities to immerse themselves in cultural experiences.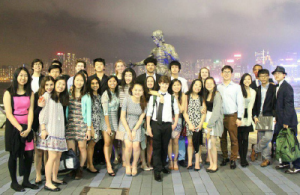 Concertmaster Yong-hun Kim '15 said, "[The cultural activities] were all engaging and entertaining. There was such a variety from cooking to religion, which was awesome."
The purpose of the trip, however, was to share music. Every concert was a collaboration between Deerfield and local schools. Surprisingly, even though the groups came from such different backgrounds and spoke different languages, they were able to warm up to each other quite easily.
"When we were collaborating with the musicians, they were all on the same track," said Director of Music Maaja Roos. "We had the same idea in mind–what kind of sound we wanted, what kind of crescendo we wanted. It was more interesting to see what was alike than what was different."
While in Korea, the musicians had to prepare for a performance every other day, rehearsing for six hours before hand. When not practicing, the group visited sights like Buddhist Temples and tasted Korean cuisine.
"The Seoul part was longer and meatier and had a few more cultural things involved, said Academic Dean and orchestra conductor Peter Warsaw. "The Korean culinary experience was really intense with cooking classes,"
The group's stay in Hong Kong was less rigorous. There were joint performances, the final one being a four-hour concert with Diocesan Boys School and Phillips Exeter Academy.
Despite the musicians' success, the trip was also riddled with some hardship. A few days into the trip, sickness started to ravage the group. Nevertheless, the group persevered, executing an amazing concert at DBS without their concertmaster or second-chair cellist.
"I know that some people will be hung up on the bad things," Dr. Warsaw said. "But we were trying to learn and grow and do better, all the while trusting that depth and sincerity would carry us in some way through the lapses. And I really believe that happened."
All in all, the tour was a great success, a sign of just how far the Deerfield music program has come. With the Seong-nam concert to be broadcast on KBS, one of Korea's major TV channels, Deerfield has left its mark in Asia. But more importantly, a real exchange happened during the trip, both musically and culturally.
Cellist Lucas Kim '17 said, "[For] every single concert, I can confidently say that the level of music produced was greater than before, and by the end, [there was] some really beautiful music."
Dr. Warsaw concluded, "I think a few people probably are going to have seen something, heard something, and said, 'Wow, this is really cool; this is different.' And I'm really happy about that. I think that's the gift we might have left."