An Original Tebeau Production
For four years, Josh Tebeau '16 has been working on a documentary entitled Picking Up the Pieces, now on the verge of completion. The film is a collection of stories from child survivors of the Holocaust, a synthesis of how they recovered from and rebuilt their lives after tremendous hardship and trauma.
While Tebeau had previous experience in film, Picking Up the Pieces was his first major endeavor. Not only did he end up with over 40 hours of interview footage, but he also captured stories that affect people on a global scale. Videography teacher Tim Trelease, Tebeau's project mentor, highlighted the documentary's uniqueness, praising its "depth and breadth of ambition."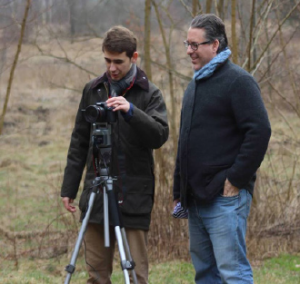 Tebeau brainstormed the film as an eighth-grader, when he met child survivors of the Holocaust who spoke at his school. Originally, he'd planned to make an eight-minute documentary.
However, once he delved into his research, Josh found that "there hadn't ever been a film made on child survivors that looked at them collectively and tried to build one story." From this realization came the idea of creating one narrative from a multitude of memories and emotions.
Now, his film spans 27 minutes.
On his website, Tebeau states that his film is centered on the question "How do you live after surviving the Holocaust?" The film focuses on five key themes especially relevant to child survivors of the Holocaust: forgiveness, belief in God, home, Jewish identity and memory. On the website, Tebeau says, "Telling the story this way makes it unlike any other documentary. It creates a choral effect with individual voices merging into a haunting harmony." During the summer of 2014, Tebeau travelled extensively, tracking down and interviewing 30 survivors of the Holocaust all over the world.
During the process, he came across significant challenges. Mr. Trelease thought that the toughest part of this project was taking more than 40 hours of raw footage and deciding how to organize it and, above all, how to tell the story. He and Tebeau both mentioned that the stories were very emotional, and oftentimes difficult for the survivors to share.
One of the most compelling stories Tebeau encountered was that of Simon Gronowski. Germans put him-as a boy-on a train to Auschwitz with his mother. When the train stopped for a brief interval, his mother instructed him to jump off. However, he looked back at his mother, and Tebeau recounted, "Just from that eye contact [Simon] . . . learned that she wasn't going to follow him, and she wanted him to go alone, because she would slow him down."
While these were the kind of emotional stories that were sometimes hard for the survivors to tell, they were the ones worth telling.
Fortunately, Tebeau was able to overcome the challenges he faced because, in the eyes of Mr. Trelease, he was "incredibly self-motivated . . . thoughtful, and willing to put himself out there."
Given their age, the number of child survivors around the world is steadily decreasing. As Mr. Trelease noted, Josh's "idea is to capture these first-hand stories before it is too late."
On April 30, Deerfield Academy will screen Tebeau's Picking Up the Pieces. He then hopes to screen it at film festivals at other functions. Through his documentary, Tebeau will share with the world memories that would otherwise be lost.