Tomas Milmo '15 Works His "Magic"
At School Meeting a few weeks ago, the Deerfield community heard Tomás Milmo '15 perform "Magic," an original song from his upcoming album.
Milmo started playing classical piano at age six. He had a teacher for as long as he lived in Mexico, but when he moved to Vail at age 13, he went further with his music.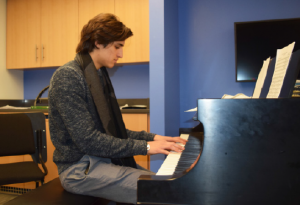 "When I moved to Vail, I didn't have a teacher anymore, but I had a piano, and a lot of free time. So I started to compose," Milmo said.
But before coming to Deerfield, he felt a lot of his music was incomplete: "I never really had anything tangible, like a finished song—it was always just ideas, melodies that I thought of."
Then he met performing arts teacher John Van Eps.
As a new junior, Milmo took Mr. Van Eps's class, Fundamentals of Music Theory. Milmo started to show Mr. Van Eps his work, and the latter took an interest.
Mr. Van Eps was key in Milmo's development as a musician. Mr. Van Eps helped set him up with a producer, and this summer, Milmo spent three weeks in New York City working with a production team.
The first thing the team did was to bring a guitar player into the studio. He and Milmo sat together, and Milmo explained what he wanted him to do for each song. Then they went through the same process with a drummer, some string players and background singers.
Milmo explained, "I got a chance to make decisions. I told the musicians what I wanted, and they did it."
Milmo got a chance to record the vocals during the final days of the process. A vocal coach was brought in, and they spent hours recording different parts of each song. Then a technician synthesized the best vocals with the recorded instrumentals.
"And then the best part was at the end," Milmo said, "when everything was in, and I would just sit at the microphone and try to come up with little ad libs or voice licks that would sound good."
Milmo recorded a total of five original songs: "Magic," "Your Song," "Polli," "Gimme Love" and "I Won't Stop," all of which are on his SoundCloud.
When asked why he loves music, Milmo reflected, "I think I love music because it's a getaway. Not necessarily from people, but for the mind. It's meditative."
Milmo hopes to pursue music over the course of his life. This coming summer, he's going to record another five songs with his production team, and next year he will continue to work on his music as a student at New York University.