Although campus is currently deep in New England's bitter winter, the majority of Deerfield's varsity teams have something warmer to look forward to—preseason trips to the sunshine state as they rev up for their challenging seasons ahead.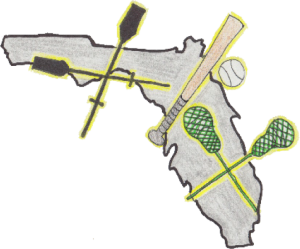 Coming off last season, when girls crew won Nationals, captain Victoria Castellano–Wood '16 is filled with optimism for spring and the upcoming trip to Jacksonville: "Girls crew has never gone before—we normally go to Oak Ridge, Tennessee."
"Coach Washburn came from Princeton," said varsity rower Lucas Tupinamba '16, "and he knows what he's doing.'
"He's been giving us weekly workouts, and the guys that have exemptions are going hard every day—we're just getting fitter and fitter. I feel like as soon as spring starts we'll be on top of our game, probably more prepared than we were last season. We're looking good."
Boys lacrosse will be attending IMG Academy for preseason—a "strictly sports academy" with a $10 million lighted lacrosse stadium as well as dozens of other state–of–the–art facilities for its attendees.
"We won the New England Championship last year—returning to that level is obviously our goal," said Emerson Logie '16, optimistically. 'In addition to returners, we also have some really good new guys."
Meanwhile, girls lacrosse is going to a camp in Orlando. Caroline Fett '16 reported how the team is preparing: "There are a few girls on the team who did exemptions this winter to prepare for the season, and a lot of girls I know have done tournaments throughout the fall."
Additionally, Fitness Center Manager Emma Mitchell will be running agility workouts for the grils leading up to spring break.
"It's expected that you'll show up to preseason in shape," Fett emphasized.
Dana Marrocco '15 is also hopeful about the baseball season: "We should have a good all—around team."
Chad Cramer '16 took a baseball exemption this term and is very positive: "I am looking forward to this upcoming season, especially because we have a great new coach in Ryan Tatreau." The team will also be starting off with a preseason trip to Fort Pierce, Florida.
Softball coach Rebecca Sherburne is anticipating a strong team: "We have several pitchers coming back and they showed a lot of promise last year, which will always help keep us in the game. We got a couple of new players as well, so I'm excited about their talent. And we also have three players who are spending the winter training, and we've never had that before, so there's more commitment than there has been."
Softball is "taking this year off" from Florida. While Coach Sherburne has doubts about how necessary such trips are, she does believe that they help "because anytime you have an extra week of practice it is useful," not to mention "great for team bonding."