Recently, Kento Yamamoto '16 has been exploring a new art form known as Rubik's Cube art. These modern pieces entail twisting Rubik's Cubes into elaborate works of art.
Yamamoto currently has one of his projects displayed in the Hess Center. The mosaic features Frank Boyden, Deerfield's most famous headmaster.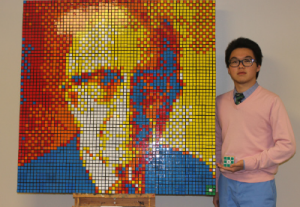 Describing this distinctive piece, Yamamoto said, "I decided to choose Boyden, because I wanted people who saw the piece at Deerfield to remember how important it is to cherish your time here, since it goes by so quickly."
Yamamoto has always been fascinated by Rubik's Cubes; therefore, when required to make a project inspired by an Asian art form using a modern medium for his Asia in World History class freshman year, he decided to produce a Rubik's Cube mosaic. He purchased his Rubik's Cubes from Rubik's Official website, where he signed a form stating that he was an official Rubik's Artist.
As of now, Yamamoto has designed eight of pieces.
His inspiration for "Rubik's Cubism" is the famous Pete Fecteau, who created an MLK tribute mural that used to hold the Guinness World Record.
Having Skyped with Fecteau twice, Yamamoto exclaimed, "He's been a great mentor for me."
Since Yamamoto's first mosaic, he has come a long way. He recently made a deal with a music school, which asked him to create a mosaic of a famous musician. After much thought, he decided upon Beethoven. As this is his first commissioned work, he is very excited.
The Beethoven piece is the first of a four—part Rubik's Cube series on people who have changed the world, including Steve Jobs, Bill Gates and Barak Obama.
"I want to continue making pieces on people that have made an impact on the world," explained Yamamoto,
Yamamoto has recently finished editing his website, colorubiks.com, which includes photos of his unique artwork. He encourages everyone to check it out.