Girls' Swimming with Savage and Washburn
This season, the girls varsity swim team welcomes two new coaches: Caroline Savage, The Associate Director of Admissions, and Megan Washburn, a science teacher.
Mrs. Savage grew up swimming in California on a year-round club team before going on to swim at Columbia University. Although she has coached swimming before, Deerfield is Mrs. Savage's first head coach experience. Her assistant, Mrs. Washburn, grew up swimming in Pennsylvania. She swam at Bates College and then went on to coach swimming at the Peddie School in New Jersey before coming to Deerfield.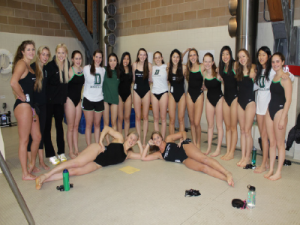 Mrs. Savage explained that her goal for the season has more to do with individual improvement than placement at New England's. She said, "My goal for the girls is that everyone experiences a personal best this season."
The team this year consists of 23 girls, including 5 freshmen and 6 seniors. "It's a nice even spread, and I think that makes for a good team dynamic," explained Mrs. Washburn.
She and Mrs. Savage also agree on the excellent leadership on the team this year. Mrs. Savage applauded captains Maggie Savage '15 and Claire Collins '15, calling them "leaders among leaders" on the team. She continued, "All of the seniors are motivators during practice. They're cheering the team on, as they're exhausted themselves." And, Mrs. Washburn added, "their leadership goes beyond the pool."
This year is not only the 25th anniversary of coeducation at Deerfield, but the 25th anniversary of girls swimming. Mrs. Savage decided to commemorate the milestone by "reaching out to all the alums I could and asking them if they would write letters to this year's team, talking about their own swimming experience at DA."
According to Mrs. Savage, the coaches received some heart-warming letters from former Deerfield swimmers. She hopes that reading them before meets will "reinforce that they come from a long-standing tradition of excellence in Deerfield swimming."
Last year, when former girls varsity swim coach Sonja O'Donnell was on sabbatical, John Burke, the current boys varsity swim coach, took over both teams, and the boys and girls practiced together, with Mrs. Savage and Mr. Spencer serving as assistant coaches.
This season, the girls are again practicing separately, with the coaches designing workouts more suited to their gender. Collins said, "Even though Mrs. Savage has a similar style to Dr. Burke, we definitely do a lot more things oriented towards just girls this season."
Collins went on to commend her coaches: "I think a lot of the team has put a lot of trust in them, just naturally, which says a lot."
Her co-captain, Maggie Savage, also praised the new coaches, saying, "Each of them is focused on helping every swimmer work toward [the swimmer's] own personal goal." She concluded by stating, "Swimming is an extremely demanding sport, but Mrs. Savage and Mrs. Washburn make all of us want to be there at practice every day."
In terms of collaboration, the new coaches are what Savage referred to as a "dynamic duo." Mrs. Savage added, "I think Mrs. Washburn and I really complement each other in our breadth of experience; we come from opposite coasts, different swim traditions, but I think we've married them well."
Both coaches continuously stressed how lucky they feel to have been given the opportunity to work with such a great group of girls.
"I've never worked with or on such a hardworking team; these girls are constantly striving for more," said Mrs. Washburn.
Mrs. Savage concluded by saying, "I definitely understand now why DA girls swimming has the reputation of being such a dedicated, close team."