Deerfield Theater Picks Up [Ms.] Speed
New Teaching Fellow Katie Speed is not only teaching acting, but also directing the spring production.
"As soon as I was finished touring Deerfield, I knew I could see myself working here," reflected Ms. Speed. "While interacting with the students, I noticed immediately how kind and helpful they were. It was nice to see students so eager to learn and loving [of] their school."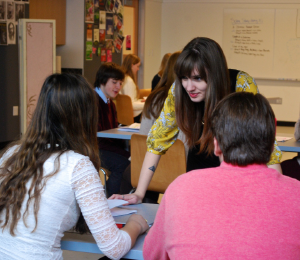 In addition to teaching an Acting II class and fulfilling her duties as a dorm resident, Ms. Speed is also working toward University of Pennsylvania's Master's of Science in Teaching. She also has an M.A. in Applied Theater and a bachelor's in Theater Education with an Acting Concentration from Emerson College. The idea of applied theater is based on performing drama in a non-theater setting.
Her applied theater program focused mostly on education and working with communities on the "fringes of society," including inmates in prisons and people with mental disabilities.
"The thing that is so great about theater," said Speed, "is the power it has to help people work through things. Giving them a voice and a chance to express themselves in a way that is safe and controlled is something that they don't normally get to do."
Last year, she worked at Wellesley High School and directed the freshman-sophomore production called Museum, an ensemble show in which all of the actors play many different characters.
Ms. Speed is also performing in I Love You, You're Perfect, Now Change, which moves through the cycle of adult life in terms of dating, falling in love, marriage, and possibly divorce and death. (Show dates: February 13-March 1)
In addition, she may work on Radio Show with one of her old classmates from Emerson College. Speed would play the female protagonist, a resident physicist at MIT working on a time machine that accidentally takes her back in time onto a German war ship.
When questioned on her next project, the spring term show, Ms. Speed said, "Generally we like to use the spring term to have a larger cast and have students play multiple roles. It's an interesting opportunity in theater to be able to transform yourself so distinctly on stage without completely changing the way you look. I'm very excited to direct. Teaching all these kids who can't wait to show what they've done is an amazing opportunity."