The Space We Share: Deerfield Invites Local Schools to Burst the Bubble
This spring Deerfield students are inviting several local high schools to join together for a regional Round Square conference.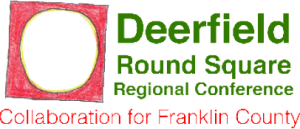 Hannah Casey '15 affirmed the importance of this new conference: "This is an opportunity to get informed about the community we live in and what challenges the people of this [larger] community face, and collaborate to make a sustainable difference in Franklin County."
The conference's mission statement reads: "The Deerfield Round Square Conference aims to bring students from the Pioneer Valley together to discuss and address present-day issues in the region. Despite sharing the same physical space, there is little communication between student bodies. It is our duty, as inhabitants of Franklin County, to be aware of issues that surround us and collaborate with our neighbors to affect positive change. Through the conference we will cement channels of communication with neighboring schools and ultimately open the door for collaborative efforts to benefit Franklin County."
Robin Tu '16 discussed the necessity of hearing these regional perspectives: "Deerfield has been mostly isolated from our surroundings: we often debate international affairs, but we rarely pay attention to the problems around us." He added, "Deerfield students need exposure to these issues, realizing the environment we live in."
Tu sees this conference as a "parallel to two countries establishing a diplomatic relationship."
As is often said, Deerfield students live in a bubble. This bubble can lead to students being ignorant on local issues. This conference aims to burst this bubble, raising awareness of problems in the area surrounding us, setting up meaningful conversation with local peers.
Through a spring day of speakers, discussion groups, potential work projects and more, Deerfield means to collaborate with neighboring schools to benefit Franklin County, showing the space we share together in an entirely new light.