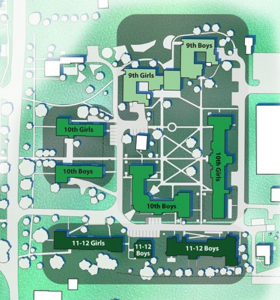 We are excited to announce a "Ninth-Grade Village" at Deerfield. The Ninth-Grade Village is designed to give ninth-graders a strong academic and social foundation for their time at Deerfield—and to address common concerns new students have about orienting to life away from home.
Starting this fall, ninth-grade girls will live in Johnson Dormitory, and ninth-grade boys in Doubleday Dormitory. The Crow Commons, a large common space connecting the two buildings, will serve as a dedicated environment in which to build the Ninth-Grade Village program. Study halls will be structured and supported specifically for ninth-grade students, and dorm-based programs will encompass aspects of orientation, diversity and inclusion, community service, and health issues.
Also starting this fall, sophomores (new and returning) will be housed together, as a class, to help new students bond with their returning classmates more quickly—and to ensure that we can provide a structured study environment each evening. (Juniors and Seniors, including new students, will continue to be housed together in their own dorms.)
All dorms will now be arranged around a "brother/sister" dormitory model, extending the notion that when we provide structures for casual interaction between and among boys and girls, we create an opportunity for more natural and meaningful relationships.
While single rooms provide an opportunity for focused study, we've found that younger students can sometimes feel a bit alone when placed in a single. Under our new residential model, most ninth-graders will be housed in double rooms—providing the companionship and bonding opportunities to set them on a great start—while students in later years will primarily occupy single rooms, giving them the ability to retreat, focus, and reflect on their studies.