In recent years, Martin Luther King Jr. Day has been the single day of the year in which the Deerfield community gathered to commemorate the work of Dr. King, and pay tribute to social justice nationally and globally.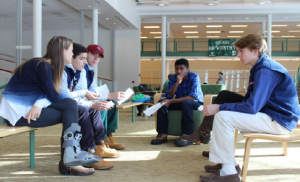 In an interview preceding MLK Day, Ms. Young said, ​"This year's MLK Day events have been intentionally spread out over a two-week period so that we don't just talk about Dr. King solely on the day of his birthday."
On January 11, The Fire This Time opened at the Von Auersperg Gallery, a show intended to inspire reflection and discussion on social justice. Then, on January 12, after uplifting student performances, award-winning civil rights lawyer and activist Fania Davis spoke on what motivated her to found the restorative justice movement.
Ms. Young explained that "over 25 workshops with topics ranging from protest to stereotypes" would "allow our community to be in dialogue." She added, "We also have some students going off campus to do service, a wonderful way of giving back and modeling Dr. King's life."
The workshops were planned to "provide a safe space for students to share stories about their experiences here on campus," as well as "examine the relationships of race, education, religion, geographical region and other personal variables."
​With these new platforms, exhibitions, discussions and presentations, Deerfield has taken strides toward expanding the celebration of Martin Luther King Jr.'s work, fostering the values that he fought for.