Leading Ladies Will Make You Laugh
This winter, the theater program is preparing the lighthearted comedy Leading Ladies, written by Ken Ludwig and directed by Theater Director Catriona Hynds. A warm contemporary American comedy set in Pennsylvania, Leading Ladies strives to shift from the grave and dramatic atmosphere of the fall production, Blood Wedding, to a touching but witty comedy.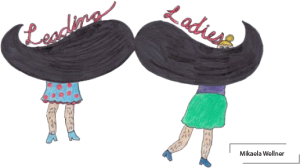 Clever and even a bit outrageous, Leading Ladies is a production in which Ms. Hynds aims to maintain a cheerful spirit throughout rehearsal and performances. At times, Ms. Hynds finds that "the productions of comedies are much harder than directing tragedies," as "jokes are funny the first and perhaps the second time, but certainly not the 100th time!"
Although this situation may present a challenge in the directing process at first, Ms. Hynds is certain that she has found the perfect eight actors for the job: Will Darling '15, Austin Parenteau '15, Sarah Jinich '15 , Charlie Pink '18, Abby Lupi '18, Owen MacPhee '18, and Aiden Day '17. As she puts it, actors who have "both the stamina and faith in the material" are those that will really pull this production through and keep up the playful farce that Ms. Hynds envisions. She expects that this play will be a huge success for the company and is eager to cheer up the community this winter.
When asked why students should see the play, she responded with her characteristic passion and ambition: "Why on earth would you not go and see this play?!"