This October, Emily Yue '16 captured the attention of hundreds in Times Square, New York City, winning the Best Rising Female Star film award. AMC Theaters hosted their second annual All-American High School Film Festival, where Yue made her claim to fame in the film realm. Yue went from filming on her first Flip video camera in middle school to being selected as one out of 200 high school students from around the globe to have their film featured in the Big Apple.
In order to make the top 200, teens sent in their videos to celebrity film judges who selected the top films that they believed told each teen's story best. For Emily, this process was nothing new because she was also a finalist last year for her short film, "Life."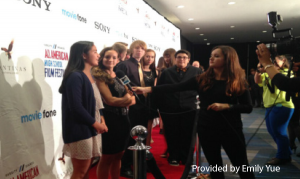 Yue was selected again this year for her newest short film, "To Infinity." Her five-minute clip features a boy and a girl who want to run away from their structured civilized lives. She explores unconventional possibilities for teens' lives, reflecting on societal norms while adding her own twist.
Yue was also nominated for Best Editing for "To Infinity."
Seeing her film on the big screen in front of 1,000 people was an indescribable feeling for Yue. She noted, "I have only ever shown my films to family and friends, so seeing other people reacting to my film was amazing."
Yue had a weekend filled with red carpets, celebrities and interviews from MTV about her filmmaking. Alysia Reiner, actress from Orange is the New Black and How to Get Away with Murder, awarded the trophy to her on center stage. She loved getting the chance to meet other videographers her age from around the world with the same passions and interests.
Overall, this weekend was an eye-opening experience for Yue, and she hopes to attend more festivals in the future.
Yue's goals are to continue to make videos at Deerfield for The Scroll and to improve her videographic skills. Using her experience from the All-American High School Film Festival, she hopes to make another hit film.