Wonder Woman Claire Collins
Over the past three years, the Deerfield girls crew team has looked to Claire Collins '15 to drop seconds off their race times.
After receiving encouragement from both her older sister and former DA coach Wayne Berger, Collins started rowing for Deerfield during her freshman spring in 2012, and she quickly won a spot on the girls first boat. Impressively, only three years later, Collins has recently committed to rowing at Princeton University next fall.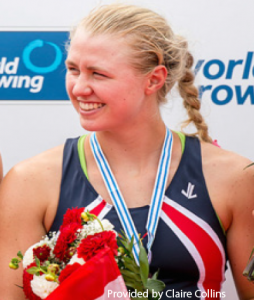 Coach Eve Goldenberg described Collins as "one of the most gifted athletes I have ever coached." According to Ms. Goldenberg, "Not only is she physiologically gifted in terms of her strength, muscular and cardiovascular endurance, and awareness of how her body moves through space, she is also extremely coachable. She has the psychological and physical fitness to make important technical changes and is patient with herself in the process."
During the summer before her sophomore year–months after having started the sport–Collins earned a seat on the Junior National Team's 8+ boat. After winning silver at the Junior World Championships in Bulgaria in 2012, she returned to place fifth in the 8+ category in Lithuania in 2013. This year, Claire won silver in Hamburg with the 4- crew, the priority boat in sweep rowing on the Junior National Team.
Ms. Goldenberg attributed Collins's success to her hunger to improve, "aligned with a strong work ethic and passion for the movement of the sport itself."
Of this experience on the Junior National team Collins said, "It was a lot of hard work, but I love being with my teammates, and I have made some of my best friends through the team. It is such a privilege to train at a high level and represent the United States."
Collins also observed, "I've definitely become a more confident and content person. I've been inspired by my teammates and the opportunities I've been given. I've learned a lot about how to prepare mentally and physically to be successful."
Collins has brought her summer experience to her Deerfield team and has inspired all the girls, as captain of the team, to tap into their potential and improve.
Teammate Garam Noh '15 remarked, "Claire is an amazing teammate. She is a natural born leader. She never has to grasp for her chances to be a leader—people automatically look to her for advice because in every practice, at every race, she herself embodies all the best values a rower could have."
This past spring, Collins helped lead the first boat to gold at the New England Interscholastic Rowing Association Regatta and then again led the boat to gold at Nationals. She is excited to work with other Deerfield rowers to achieve the same success as last year.