Reminiscing About Our Coeducational Heritage
This year marks the 25th anniversary of coeducation at Deerfield Academy-or at least the reinstitution of coeducation, after the all-boys years (1948-88).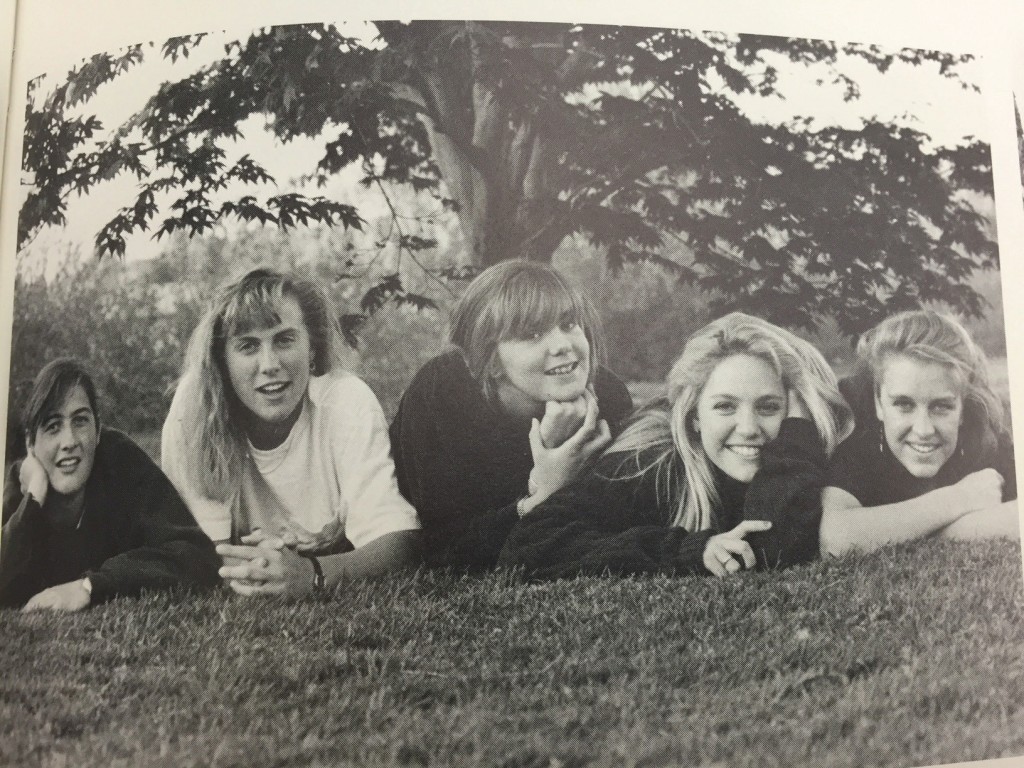 When Deerfield reopened its doors to young women, it welcomed a new and vibrant group that immediately made an impact on the Academy. According to Andrea Moorhead, former faculty member and chair of the language department, who taught French and Latin at the time, "They were dynamic, high-spirited individuals committed to living up to Deerfield ideals and bringing their very best to the classroom, the athletic field, co-curricular activities, the arts, the broad social scene of dorm and dining hall." She added, "The Deerfield girls of the early 1990s were creative, ambitious and fearless individuals who faced many challenges on all fronts with strength and courage."
In order to thrive in this environment, the girls needed to have confidence. Current English teacher Michael Cary, dean of Admissions and Financial Aid in 1989, explained that the girls were a part of a "self-selected group," because not just any female would be willing to accept such an important role. Mr. Cary highlighted a point that Trustee Carrie Freeman-Braddock '92, one of the first "Deerfield girls," emphasized in her Convocation talk in September, saying, "[The girls] didn't see it so much as a challenge, but as an opportunity."
Such a pivotal change, decided on by Headmaster Robert Kaufmann and the Board of Trustees, required an immense amount of planning for it to be successful.
Current Math Department Chair Pamela Bonanno, then dean of students and dean of juniors and seniors, commented on Deerfield's communal efforts to facilitate this change: "Returning students spent the [previous] year getting ready for co-education by serving on committees. Every student was offered the opportunity to be on an academic, co-curricular or student life committee alongside the faculty."
Various changes in nomenclature had to occur as well. According to an April 1989 Scroll editorial—"Names are Changing; Old Girls in '91?"—corridor masters became faculty residents, table masters became table supervisors, waiters became servers, and the titles upperclassman and underclassman were to be forgotten altogether.
Additionally, Mrs. Bonanno recalled how faculty studied recent research and hosted speakers in preparation for the 1989-90 school year and the new learning styles the girls might possess. Ultimately, though, teachers found that both genders benefited from pedadgogical changes.
"By incorporating different approaches," Mrs. Bonanno said, "faculty became better teachers and mentors to all of our students." And the presence of two genders in the classroom, she said, made Deerfield more conducive to heightened learning.
Throughout its planning year, Deerfield took into account the mistakes of other prep schools that had recently converted from being single-sex. According to Mrs. Bonanno, "Deerfield learned from them that it would be a better experience for all students if there were girls participating in all four grades."
With that in mind, unlike other schools that had only accepted girls as underclassmen, Deerfield admitted 109 girls, including 9 seniors/post-graduates (May 1989 Scroll). "It felt like a coeducational school because we had girls in all classes," explained Mr. Cary.
By adding females to every grade, Deerfield transitioned more smoothly. "It is a pity the school waited so long to join the mainstream," Ms. Moorhead said. "But when we did go coed, we were able to avoid certain pitfalls simply because we studied the mistakes of our peer schools."
The advantages that Deerfield gained when it switched back to coeducation affected different aspects of student life, including the social and the academic. "Deerfield before co-education was losing out not only on fifty percent of the student population, but on those boys who chose not to come to an all-boys school," said Mrs. Bonanno. "So when Deerfield made the move to return to coeducation, we were now increasing our population of male candidates along with the addition of female candidates."
Once the switch was made, Deerfield went from viewing about 600 applications to 950 applications, boasting a 55-percent enrollment yield, according to a May 1989 article by Kevin Psonak in The Scroll.
Predictably, some of the male students were less optimistic about a change from the single-sex school they had applied to years before. "Certainly there were some students, a small minority, who felt like they chose an all-boys school and it wasn't going to stay the same," commented Ms. Bonanno.
Concerns were also raised regarding the possible dwindling of athletic programs due to the decrease in male athletes. Mr. Cary said, "As I said in my remarks, there were some senior boys who formed a men's club, because they felt that the parade was passing them by."
But the overwhelming majority embraced the adjustment and supported the girls throughout their various endeavors. Field hockey, soccer, cross-country, basketball, squash, swimming, skiing, lacrosse, softball, tennis, and track were all offered to girls. Dance was also an option for both girls and boys.
Among these teams was Deerfield's first field hockey squad, coached by English teacher Karinne Heise. Now also girls varsity squash coach, Ms. Heise recalled the hard work and success of the team, saying, "The final words of the field hockey team's pre-game cheer epitomized the spirit of those first girls on campus." The words were: "5-4-3-2-1, coeducation has begun. We're here to stay. We'll show you the way! Let's go green!"
One game in particular, the team's first win, stands out as a moment of unification to Ms. Heise: "After ending regulation play with a 0-0 tie, the game went to penalty strokes. All the other games on the Lower Level had finished, so there was a huge crowd surrounding the field; and when Heather Morgan flicked the winning stroke past the goalie, the crowd erupted and ran onto the field, joining the team in mobbing Heather—a real moment of embracing the girls as an integral part of Deerfield in its new days of glory."
Other teachers recognized this moment as well. Mr. Cary called the girls "great representatives of Deerfield." And Mrs. Bonanno elaborated: "There was more enthusiasm than I had ever seen at Deerfield at the conclusion of an athletic contest. Everyone was screaming, hugging each other, jumping up and down. It was one of those moments when you knew that Deerfield was going to be just fine."
Mrs. Bonanno reflected that much of what was learned in the early years of coeducation is still relevant. "The advice we had for girls then is the same as we give today," Ms. Bonanno said. "Be yourself. Learn, grow and thrive on this beautiful campus. Learn the traditions of Deerfield and build new traditions. Respect each other."
According to Ms. Moorhead, Deerfield's change was inevitable: "American society has evolved tremendously over the past few decades. I cannot imagine Deerfield deciding not to grow, change, embrace the realities of modern society."