This fall's Parents Weekend—which is unusually placed on the fifth weekend of fall term—will be following a new schedule. There will still be classes, parent-teacher conferences and performances on Friday; but on Saturday, only two games will be home: JV football and boys junior A soccer.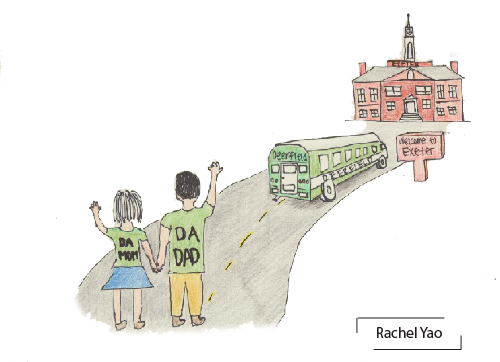 This is a peculiar situation, since parents—who come from all over the country and the world to visit their children's classes and then watch their games—will find it more difficult to get to the games. So what happened this year?
Normally, Deerfield has held Parents Weekend on the fourth weekend of the term, during which Deerfield hosts many home games. Although the fourth weekend will still be busy with home games this year, Parents Weekend had to be moved to the following week because of the late Columbus Day Weekend—always the busiest weekend of the year for the Admission Office.
Amie Creagh, Dean of Students, explained, "Feeling that it would be unfair to divide our attention between parents and more than a hundred prospective families, we explored other options."
The Alumni and Development Office consulted with the Deerfield Parents Network and came to the unanimous resolution to hold Parents Weekend on the fifth weekend of the year. They correspondingly emailed parents last year.
"Any time later would be too late," said Athletic Director Chip Davis, "and any time earlier both doesn't make sense and isn't possible due to Admission commitments."
The seasonal schedules for sports are set one to two seasons in advance by the athletic directors of many New England prep schools. So, unfortunately, the fifth weekend was scheduled for most of Deerfield's teams to be away.
The administration initially considered the idea of providing coach buses to facilitate parent travel to games, but that was ultimately not approved.
"Many parents who travel to an away game will want to leave directly from there with their son or daughter," said Davis. "Therefore, this decision was made, because the buses were an inefficient and potentially wasteful proposition. [But] I would admit that the extra travel is inconvenient for many of our parents."
So parents have begun coordinating transportation on their own to and from these games.
Ballard Brown '16 asserted, "It is very inconvenient. Many teams are going to Exeter, and families are coming from around the world to see their kids in classes and on the field. Now, in order to do that, they have to travel a couple hours to watch a match."
Despite these setbacks, Deerfield still has numerous activities to offer on Saturday. Deerfield will be providing guided tours of the new Hess Center for the Arts, and the performing arts faculty will be offering instructional workshops and master classes for students, siblings and parents.
"This is an unusual year, and it won't happen again. However, [now] there has been some discussion about the spring Parents Weekend of 2017," said Ms. Creagh.
By planning far in advance, the Deerfield administration is aiming to eliminate situations like this.