President Klehm Discusses Agenda
I am honored to write this article at the request of The Scroll to address certain issues such as our current election process and the no-AP trial last year. I hope that readers will find it informative about Student Council initiatives in the upcoming year.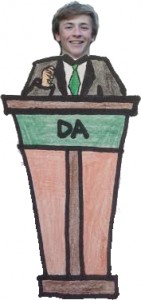 Personally, I believe that our election process is effective, but it could change in a few ways. I don't believe that we should have a longer process of campaigning with posters. It could potentially cause other candidates to attack eachother.Evenifitisnotblatant, they could do it in extremely aggressive ways. I believe the current election process holds true to the view that students at Deerfield have been running for president, applying for proctor, peer counselor, etc. since they steppedoncampus.AndIbelieve that because our community is so small, our current election process can succeed.
The one thing that should change is the lack of attendance at the Student Council speeches. I think the faculty should take attendance for the election, but once everyone has arrived, the faculty members should leave and the students should run the process from there.
I have a lot of faith in the Student Council's abilities this year. We have a ton of experience on the Council as all of the sophomores from last year have been re-elected as junior representatives, and we have a great chair of the Student Council, Nahla Achi. We are looking to reform several aspects of campus life this year, such as the AP system, accessibility to printers and Internet access.
Although many students were not fans of the no-AP trial, I think the Student Council and the administration will be able to take away some positives. I think the administration was not so alarmed by the number of classes missed by seniors, but rather faculty members I spoke to were greatly concerned by the number of classes and events missed by younger students.
The Deerfield community may see changes in the AP system as a result of the trial. This fall, the Student Council is working on removing APs for missing classes. We believe that the system was designed to time-manage around students' busy class schedules and class work. It was not necessarily designed to help students miss class. Therefore, we would like to replace APs for a missed class with a face-to-face interaction with either a teacher or advisor.
A few other works in the pipeline are: an equipment shed for the Lower Levels (rafts, Frisbees etc.); more frequent updates of our website so students and faculty can know what the Council is up to; extended Internet on weekends; a printer in the Dining Hall; and displaying which people have the same free periods on DAinfo. Also, the Crow Commons café is still a work in progress. We hope to be able to have froyo and popcorn available in Crow Commons.
As for the new Student Council, we are always trying to findwaystoimprovethewaywe do our jobs. With that goal in mind, we are trying to organize an "Interscholastic Student Council Summit." The summit would help us understand how other student councils work as well as share ideas and see how different issues are handled around different campuses.
In conclusion, I am very excited for the start of a new school year, and I encourage everyone to reach out to the Student Council with ideas and ways to improve Deerfield.
-Bryce Klehm