Inaugurated in 2008 by Associate Dean of Admissions Jeffrey Armes, KIPP STEP—an annual summer session at Deerfield-merges two successful academic programs: the Knowledge is Power Program (KIPP) and the Success Through Enrichment Program (STEP).
For 20 years, KIPP has encouraged students in educationally under-served regions to become college graduates. KIPP now operates 162 charter elementary, middle and high schools in 20 states and the District of Columbia. Additionally, dozens of KIPP alumni have matriculated at Deerfield.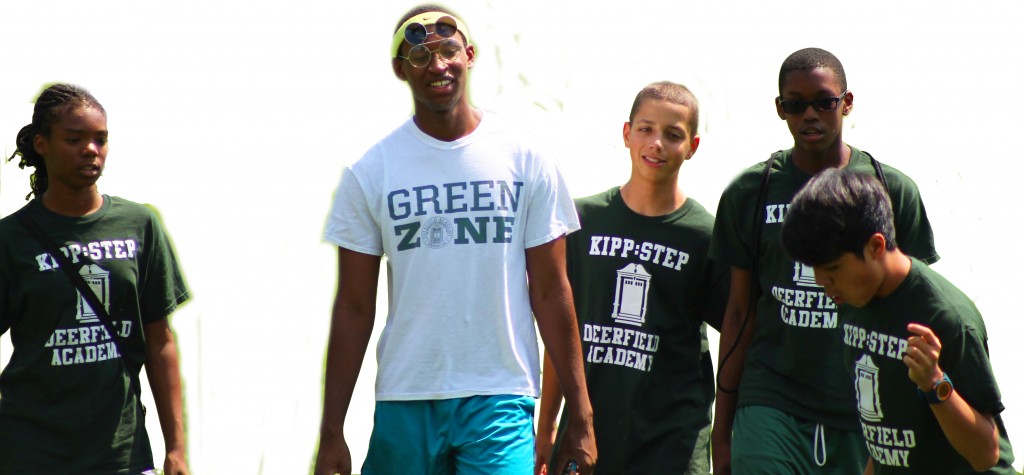 In 2000 Armes founded STEP, a three-week long "localized academic opportunity" for talented students in the Franklin County area.
Eight years later, the KIPP STEP partnership became the first of its kind, offering a "chance for a select pool of KIPP and local students to enter Deerfield, experience boarding school and challenge themselves academically," according to Armes. For the application process, each KIPP middle school nominates two rising eighth supervise and mentor students. graders—one male and one Academy students Celeste Diaz female. A selection team '15, Tarek Deida '15, Hannah comprising KIPP STEPP faculty and administrators then chooses approximately 40 KIPP students and 10 local scholars. The program, funded by an independent organization, runs from July 7 until the 25th.
During KIPP STEP, Deerfield and KIPP teachers collaborate to implement a challenging curriculum, including ninth- grade level biology, physics, coding, English literature and analytical writing. Armes decided to focus on English and the sciences because national data trends have shown that the nation's educational system often undervalues these two subjects.
Although academic rigor remains a central goal at KIPP STEP, participants also partake in a variety of extracurricular activities and field trips, and experience dormitory life. Two Deans of Enrichment, similar to Deerfield's Deans of Students, oversee all non-academic aspects of the program. Four Casey '15, R.J. Shamberger '16 and Jared Armes '15 have all served as proctors.
Deida, who attended KIPP STEP in 2010, reflected on his experience: "Being a part of the program changed my life. It opened up a new world of opportunity by telling me about boarding school and other choices I had for high school. I decided to work as a proctor for KIPP STEP in 2013 because I felt it was my duty to share my experiences with other kids who come from backgrounds similar [to mine own]."
KIPP STEP has changed the lives of many. "The program is a reinforcement for students, as they reach another level of maturity and responsibility they didn't know they had," Armes said. "They learn to be a part of a community and leave with heightened confidence."
Both Armes and KIPP STEP Program Coordinator Christina Kopp agree that KIPP STEP is often the first time students "realize that it is okay to be smart."
Armes concluded, "They own this experience."