Recently, acclaimed documentary filmmakers Ken Burns and Peter Davis visited Deerfield to discuss the artistry and history behind their films chronicling the Vietnam War. The two shared information and scenes from Davis's 1974 classic, Hearts and Minds, and Burns' newest project on the Vietnam War, which is scheduled to premiere in several years. Although this is Burns' third year coming to visit Deerfield, this was Davis' first trip. Both offered insight and wisdom into the film industry.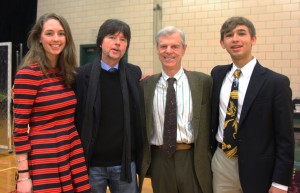 History Department Chair Mr. Joseph Lyons, who coordinates Burns' trips to Deerfield, said, "We have an opportunity, through a relationship with an alum, to host one of the most preeminent documentary filmmakers of our time."
Burns, who has also created renowned series about baseball, the Civil War, the Jazz Age, and the Dust Bowl, answered some additional questions, regarding his profession and his ability to distill complex topics into works of instruction and entertainment, for The Scroll.
When asked how he strikes the right balance when creating a film to make it both accessible and informative for a wide variety of Americans with different investments in history, Burns responded that he considers himself to be a "curious fly on the wall," whose job is to "recount good stories."
Burns takes his place among a long line of storytellers who have "kept the universe sane" for millennia by fostering communication and shared memory. As a result, he believes many naturally gravitate toward film as a new way to share an old tradition, passing down lessons and accounts to posterity.
Lyons commented on this concept of storytelling: "Stories about the past give us a sense of meaning, telling us who we are. As a filmmaker, Burns chooses to tell stories about this nation's past, and thus plays a significant role in shaping how we understand and define this country. He has a powerful voice in shaping our collective understanding of who we are."
When Burns shapes the knowledge and opinions of many Americans, he trusts his audience's vested interest and intelligence, "aiming high," while ensuring that anyone who has passed the eighth grade can comprehend his work.
A wide variety of historical topics could harness such interest –- how does Burns choose? "I don't," Burns answered, "stories pick me." He compared the scenario to making a friend, and the excitement each time you find chemistry with a new individual. Lyons further explained, "[Burns] shows us the power of curiosity — he chooses his topics because he wants to learn about them."
Finally, when asked to provide advice to future filmmakers, Burns responded, "Know who you are, but also admit to not knowing. Work hard, be serious, and persevere."