As the 2013-2014 school year comes to a close, Deerfield prepares to say goodbye to a valued coach, admissions officer and role model. David Irwin, head varsity baseball coach and head junior varsity boys water polo coach, will be leaving Deerfield to become Director of Admissions at Cardigan Mountain School in Canaan, New Hampshire.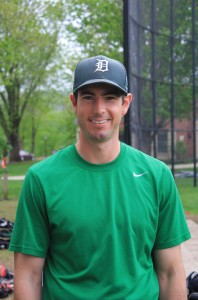 Mr. Irwin began his athletic career in high school, where he played football and baseball. He would later go on to play baseball for four years at Middlebury College as a pitcher. There, Irwin says, he "learned how to hit a good fungo—rivaled only by Coach McVaugh's."
After graduating in 2005, he took a job at New Canaan Country School, where he began teaching and coaching. Mr. Irwin recalled, "Surprisingly enough, I began coaching in high school at Camp Belknap. I began as a camper there and rose through the ranks to counselor, coach, and now, after 18 years, I am the program director."
In 2010, Mr. Irwin took a yearlong leave from the Fenn School in Concord, Massachusetts to earn a master's degree in education from Harvard University's Leadership Program.
Mr. Irwin and his wife, Mandy, found Deerfield Academy in the fall of 2011. Mrs. Irwin joined the science department and has taught biology, environmental science and Global H2O. Mr. Irwin has worked as an admissions officer and taught a popular senior English elective, "The History of Baseball."
Mr. Irwin has coached the boys JV water polo team every fall since his arrival. He observed that his coaching style during water polo games is very vocal, stating, "I yell a lot during water polo games, even though I only recently picked up the game."
JV water polo captain Andrew Hollander '16 described Coach Irwin as "one of the best coaches I have ever had." Hollander added, "He has developed my game and inspired a love of water polo in me."
Mr. Irwin's final baseball season here at DA has been a hard-fought battle. After the team missed the playoffs—barely— he proudly affirmed, "This year's team has proven themselves to be relentless and gutsy in the face of adversity. They had to work and grind for the successes they experienced. Nothing was handed to them."
Doug Vallar '15, who has played for Mr. Irwin for three years, said, "I am sad to hear that he is leaving. He has brought a lot of baseball knowledge to this program, and he has significantly developed my game both mentally and physically."
Chad Cramer '16, advisee and player, said, "Coach Irwin has clearly left a significant impression during his three years here at Deerfield, and will be missed by the Deerfield community."