Tutaonana "See Ya Soon" Tanzania!
At the start of spring break, 13 Deerfield students and three faculty members traveled over 40 hours to Tanzania. They went to rural Kitongo to work at a school run by the Janada F. Batchelor Foundation for Children, also known as JBFC.
According to Director of Global Studies David Miller, faculty trip leader, "The general purpose of the Tanzania trip was to focus on alleviating extreme rural poverty and to help students be a part of the mission of an organization that's doing that, as well as having students learn about and think critically about what role they can play in solving global problems." He added, "So it's just as much about doing service as it was about learning how to serve."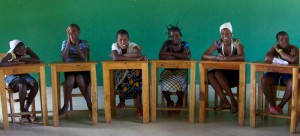 The Deerfield students and teachers followed busy schedules throughout their time in Tanzania, with little time for leisure. "There was not a lot of free time at all," commented Mr. Miller.
Aside from an overnight safari into the Serengeti, the DA team spent most of their time on site at JBFC. Students taught classes, helped prepare food with the matrons, conducted a height-and-weight project for a study of malnutrition and worked out in the fields.
"We worked alongside the girls and staff of JBFC to help start a 'gray water' irrigation system behind the school's dining hall," said student traveler Lucy Lytle '15. "This system uses dirty dishwater to sustain trees and plants on their campus."
Nearly two years of planning were devoted to the trip's activities. "There have been Deerfield students that have gone in the past on their own," said Mr. Miller, who commented on the encouragement from Jack Paul '14 and his family to build the partnership with JBFC. "We sent over a group of six faculty members last year," he continued. "We scouted the program, started designing it and then worked carefully to plan a student program."
The teachers on the trip were called on to review whether this would be a safe place to bring students, whether there would be enough for them to do and how the two-week period would be structured.
Sheryl Cabral, assistant academic dean and math teacher, who was one of the original six faculty members as well as a faculty leader on the latest spring trip, recalled her time in Tanzania: "We left that teacher training very impressed with the quality of teaching and learning at JBFC. They were great in working with us to develop a schedule that fit the needs and interests of our students."
JBFC's mission has four pillars: refuge for abused and abandoned girls, education, sustainable agriculture and healthcare. "Students prepared ahead of time in each one of those areas," said Ms. Cabral. "Before we even left, they had to present to the rest of the team about what they learned."
Mr. Miller continued, "I think there were a lot of different types of preparation that happened through the way that students are getting educated at Deerfield and the kinds of experiences they are having here. Students were making connections to a lot of different classes they had taken at Deerfield—whether it was William Ughetta '17, the only freshman on the trip, thinking about applying what he was learning in an inquiry-based physics class to the way he was teaching science classes to the seventh grade at JBFC—or Lucy Lytle '15 and Nahla Achi '15 working on thinking about evaluating JBFC as a non-profit from what they were learning in Global H2O."
"This was a group of students that I didn't know very well and seeing them come together as a group and being lucky enough to be a part of that group was a real highlight for me," remarked Ms. Cabral.
Xavier Salvador '14 commented, "On the trip, we all received a new perspective on how privileged we are here at Deerfield. Chris Gates, founder of JBFC, left us with an open-ended question about how we can turn our privilege into a responsibility to serve the world in need. For me, this was a major takeaway from the trip."
It is likely that another Deerfield team will make the long journey to Tanzania again next year, perhaps with a more focused agenda.
Mr. Miller concluded, "We're at a place where we are continuing to evaluate all of our global studies programs, but I think building off of the success of this program, it would be hard for me to imagine not going back. I think that students got a lot out of the experience, and I think that we have a lot of things that we've learned we can do better next year. But I'm pretty confident that we'll be doing it again in the future."