Too Much, Too Soon in Lax Recruiting?
"It has been an incremental creep," Athletic Director and boys varsity lacrosse coach Charles Davis said of the college recruitment process. "Every other year, the cycle seems to move six months earlier."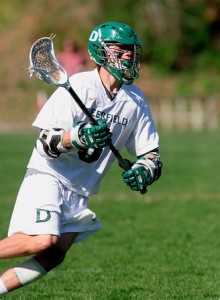 Lacrosse recuiting often begins before players have adjusted to their high school routines. Indeed, several Deerfield student-athletes have committed to play lacrosse at Division I universities prior to the conclusion of their sophomore year. Mr. Davis said, "I'm not a fan of it but have accepted this new reality and think it is leveling out—colleges won't recruit eighth graders." But many wonder if the practice and pressure is too much, too soon.
Attracting a college coach's attention certainly requires exceptional talent, drive and a significant amount of time. Junior Harrison Lane, who committed to play at Dartmouth in tenth grade, explained, "The recruiting process revolves around summer showcases and camps. Each is about three days long, consisting of three games perday…If one plays well, the coach will take note and contact your summer team or high school coach, as colleges are prohibited from contacting freshmen and sophomores directly. Then, once notified of the interest, you call his cell phone to meet."
Sophomore Nigel Andrews, a Harvard University commit, echoed Lane's sentiments and emphasized the time spent devoted to lacrosse each summer, recounting, "There was one stretch where my mom and I were on the road, stopping at hotels and friends' houses for over three weeks."
Because the majority of interactions with college coaches occur over the summer, "the process is increasingly removed from schools," Mr. Davis said. "It's a separate entity that primarily takes place in third- party settings. I just do the best I can to support the student- athlete and Deerfield."
The college advising staff occupies a similar role when players arrive at their department already committed. Sometimes they help with standardized testing, as colleges require certain scores before officially granting admission. In addition, Lane and Andrews must maintain a specified grade average to meet their schools' academic standards.
The pressure of recruitment can be overwhelming for players of all skill levels. According to Mr. Davis, "kids often don't know what they want out of college at this young age."
Also, if a player focuses solely on lacrosse and often leaves campus to play, he or she can miss out on other opportunities.
Several advantages balance these negative aspects, however, for once a player has committed, he or she can enjoy school and activities without worrying about college admission. Davis recalls many who have tried an entirely new sport purely for fun, which Deerfield champions as part of its effort to reduce specialization.
Lane and Andrews mentioned that both motivation—which keeps them working hard on the field and in the classroom—and relief from pressure result from early commitment. Lane said, "I feel closer to Deerfield ever since I committed. Without the college pressure, I can explore what Deerfield has to offer."
Andrews agreed, saying, "Although I am looking out into the future a lot, I try to live in the present as much as possible. Deerfield is an amazing place that I am privileged to go to. I wouldn't want to miss out on it by focusing too much on the future."