In early April, newly accepted students gathered on campus for Spring Visit Days, during which they toured the school and further acquainted themselves with Deerfield life. Yet these accepted students represent only a fraction of the total that applied for the 2014-2015 school year. According to Ms. Pamela Safford, Dean of Admission and Financial Aid, 1900 students applied this year for a total of 180 openings for new students here at Deerfield, which translates to an admissions rate of 15 percent.
According to Ms. Safford, the student body has grown too large in relation to "the ideal experience," and the school has been making efforts to decrease enrollment from 647 students to between 625 and 630 students. The effort to downsize the school has been most greatly felt by those applying as new juniors or sophomores, and the number of students enrolled in these grades will become relatively smaller in the upcoming years.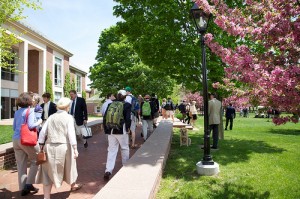 With this sudden decrease in acceptance at Deerfield, many people raise the question–how does the admissions office decide which students to accept and which to deny?
Ms. Safford explained, "While we recognize the value of enrolling a range of students in terms of background, perspective and interests, we also think that there are core attributes and competencies that best position students to be desirable, happy and successful here. Indeed, the Admission Office endeavored into a months-long process, starting last September, out of which developed a 'picture' of the ideal incoming student. Excerpts from this composite include characteristics like Love of Learning, Creative & Critical Thinker, Intellectually Curious, Intrinsically Motivated; Kind, Empathetic, Humble, Sincere and Authentic, Grounded; Emotionally Intelligent and Self-Aware."
In response to The Scroll's question about whether having siblings at Deerfield offered any advantage to applicants, Ms. Safford responded, "We are thrilled to receive so many sibling as well as legacy applications, and DA is somewhat unusual in having so many. While we are inclined toward sibling applicants, that is we give them an extra look during the process, there's still no guarantee that, even if qualified, they'll be admitted to DA since there are other compositional needs that we must also keep in mind when composing the incoming class. Statistically speaking, siblings and legacies have been admitted at more than twice the rate of other applicants, and that has remained true this year."
Ms. Safford also offered insight into applicants with a family history at Deerfield. "While a family's history of supporting the school financially does not play an official role in our admission committee selection process," she said, "a few of us are aware of this history, and in some cases, when the student is otherwise qualified, this fact may serve to enhance a student's candidacy, just as other compositional elements serve to influence admission outcomes (legacy, sibling, geography, talent, etc.)."
Another common question on campus regards a shift in the "ideal" Deerfield student. "I would use the word 'evolving,' not 'shifting,' to suggest how we're thinking about the ideal DA student," responded Ms. Safford. "It's important to keep in mind that there are some core elements for which we're looking in all student applicants. The fact that we are bringing a first-class arts building on line does, indeed, challenge us to include, among our many other needs, students who have expressed strong interest in the visual and performing arts. I think that the school has had these kinds of kids in mind for a while now and having a new facility simply reminds us of the importance of this aspect of the program."
The Admission Office expects a percent yield of 61.5% of the 292 accepted students this year. Ms Safford explains how this number is determined, "We look at historical yield trends by sub-category, consider tuition, amount of financial aid and other macro-socio-economic conditions such as the state of the national economy, other academic competition (the increase of online, home-school and charter schools, for instance). Unlike colleges and universities, it's the rare independent school that has developed sophisticated enrollment models and/or has an institutional research and planning department. And while we generally get pretty close to our original prediction, it's in the case that we don't meet our yield prediction that we rely on a robust waitlist. If, on the other hand, we over-enroll, it's harder to retract back to that original enrollment goal."
Many applicants are placed on the waitlist every year. Ms Safford expands on this process, "Of the 1900 applications, 292 were admitted, about 800 waitlisted and 800 denied. This number of waitlisted students may seem large but keep in mind a few factors: there are 20 sub-categories in which we look to enroll students (9 day boy, 9 day girl, 9 boarding boy, 9 boarding girl, etc. all the way through the PG class), so this averages out to about 40 students on each sub-category waitlist. Also, we never know who will choose to stay active on the waitlist and who will happily choose another school, so we tend to "pad" our waitlist accordingly. Finally, our current practice is to waitlist otherwise qualified students, and many of the students applying to Deerfield are qualified. We will be examining this practice in the future to determine if we might reduce our waitlist numbers."
She continued, "The vast majority of students applying to Deerfield are interesting, accomplished, ambitious, compelling. So one of the biggest challenges is to weed otherwise very fine students out in order to meet our [numeric] enrollment goal."