Deerfield Chamber Singers Take New York City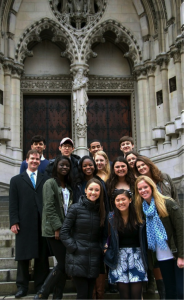 The Deerfield Chamber Singers, a group of 13 students, left for New York City on March 28 to participate in the Heritage Performance Music Festival, a festival focused on enriching the lives of students through music and performance opportunities. Led by Director of Music Daniel Roihl, the chamber singers earned remarkable scores from the judges of the festival, finishing in second place in their division.
During the four-day trip, the chamber singers performed twice, first at the Cathedral of Saint John the Divine for the public, and later at Riverside Church for the judges of the festival, who scored and ranked their performance. Their set list included three of their best songs, which they had rehearsed and polished every day during their winter co-
curricular.
Nhyira
Asante '16
believed that
their hard work
really paid off:
"We've sung
these songs so
many times, and
I really don't think we've ever sung them better than we did at the competition."
Their impressive performance earned them the Gold Award and qualification to perform at an elite festival in Carnegie Hall next year.
When they were not performing, the chamber singers explored what the city had to offer, from touring Carnegie Hall, playing games in the Sony Tower, meeting the animator of Coraline, visiting the 9/11 Memorial, to seeing Broadway shows.
Juan Cabrera '16 was visiting
New York City for the first time. He described one of his favorite memories from the trip: "One day we were waiting for the subway and we saw somebody singing for money, and I had been talking about wanting to busk and how it was on my bucket list. I saw [a performer], ran up to him, gave him five dollars. We all started joining in and singing
Motown songs with him, and we made that man so much money. It just felt so good afterwards."
Christie Jok '16 described how the spirit and energy of the group made them stand out. "We were not like any other group," she began— and Cabrera finished, "But we
brought the fun!"
Overall, the Chamber Singers
took away not only musical and performance experience from the festival, but also "a lesson in teamwork and working together," according to Asante. She continued, "We were all just so excited to be there and we were able to really enjoy singing."