With the spring sports season in full swing, the boys crew team has a new head coach, Geoffrey Bond. Coach Bond, a collegiate rower turned coach with an extensive list of qualifications and experience, has become a valued member of our community.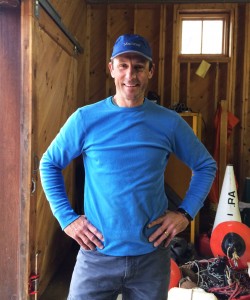 Mr. Bond rowed crew at Brown University and won a national championship while Brown was at a peak in its illustrious rowing history. Mr. Bond reflected on his passion for crew, noting, "For some it is just a sport, but for others it becomes much larger than that, and I found that it was a place where concepts of courage, honor, integrity and brotherhood played out day by day.
His coaching career began at The Salisbury School in Connecticut, where he coached and taught ancient world history to ninth-graders. He later lived in Japan for two years and learned skills like fine Japanese woodworking and construction. He eventually returned to the San Francisco Bay area in 1992, when he began coaching at Berkeley High School. While there, he met one of his most impressive pupils and an assistant coach here at DA, Dameon Engblom.
Mr. Bond eventually found his way to UC Berkeley, where he spent 12 years coaching the freshman team, winning five national championships. Mr. Bond said, "Coaching freshman, I had my own fiefdom in the kingdom that was Berkeley rowing."
Coach Bond divided his job into two main areas: recruiting and training. As the new coach of the freshman team, he was given nine months to mold a boat that had to be competitive with all the varsity boats. He mentioned how he would have a spectrum of athletes from high school national champions to athletes who had never taken a stroke. For the nine months leading up to the season and the season itself, Coach Bond (or Geoff, as his players referred to him) would function as the rowers' personal trainer, mentor and advisor.
"There is always a little alchemy involved as well," added Mr. Bond.
As head of recruiting, Mr. Bond would travel all over the United States, on more than one occasion coming to Deerfield, and he would make trips to countries like England, Austria, Norway, Spain, Greece, the Czech Republic, Serbia, and Australia, to name a few.
Coach Bond found his way to Deerfield Academy when he was approached by a previous teammate and father of Rich Caputo'14 and Jackson Caputo'17: Rich Caputo Sr. Although not thrilled with the idea of leaving his wife and three kids in Oakland, California, he could not deny the great opportunity that was presented before him.
With only pre-season and two weeks of practice completed in the 2014 crew season, Bond praised the team of 22 returners and eight brand-new rowers, saying, "This group is very ambitious, very willing. They invest themselves every day; they are aggressive and very good-humored." Coach Bond concluded by saying he was "thrilled and thankful to the community and athletic department" for giving him this opportunity.