Poet Laureate Pinsky to Visit DA
On March 27, renowned writer, poet and former three-term United States Poet Laureate Robert Pinsky will come to campus to read his poetry. His reading, a spring School Event, will take place in the Dining Hall on Thursday afternoon, with a special schedule that includes a walkthrough dinner.
According to English teacher Michael Cary, who, along with fellow English teacher Frank Henry, is organizing the event, "Mr. Pinsky was chosen as a preeminent American poet whose work evokes a distinct sense or vision of American identity and character. I think he is in the same tradition as Walt Whitman."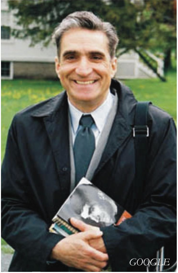 Mr. Henry said, "Pinsky is one of America's most significant living poets. He has a reputation and a record of being an advocate for poetry, in general, and public poetry in particular. He was an apostle, an advocate for poetry and the inclusion of more poetry in daily life—curriculum, posting poems in subways, that sort of thing."
Mr. Pinsky has published 19 books of poetry and prose, including a highly esteemed translation of Dante's Inferno (1994). He also founded the Favorite Poem Project to encourage Americans to read and discuss poetry. Mr. Pinsky has also released a CD called PoemJazz with Grammy-winning pianist Laurence Hobgod and has performed readings with many other jazz musicians.
Mr. Pinsky's visit will be something for the community to look forward to. Mr. Cary said of Pinsky's upcoming visit, "I am delighted that he is coming. When I was at Lawrenceville, he came to do a reading and did a spellbinding reading of his poem 'Shirt.' I hope he does the same for us."