Lam, Smith, Hrabchak, Smachlo Set New England Records
On February 15th, the 200-meter short course medley relay team consisting of Alan Lam '15, Quinn Smith '14, Miles Smachlo '16, and Matt Hrabchak '15, set several New England meter short course records at Loomis Chaffee. Hrabchak and Smachlo also set individual records at the meet.
NEPSSA swimming records are kept separate for pools measured in meters and yards. Since Loomis Chaffee and Choate are the only two schools in Deerfield's league with pools measured in meters, chances to break these kinds of records are rare.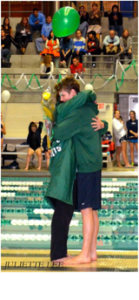 "Usually when we swim in short course meters at the end of the season, like we did against Loomis, we're gearing up for New Englands, so we're usually in pretty good shape to at least challenge those records," said head coach John Burke.
With a time of 1:47.23, the 200-meter short course medley relay team, swimming together
for the first time, broke the New England record for the event.
"We were extremely excited," said Lam. "We knew that it was going to be close, and we were pumped that we were able to get the New England record. It feels awesome for all of our hard work to pay off. We have been swimming over 30,000 yards a week and to see it pay off makes all the time staring at a black line worth it."
Smachlo set the new record for 100-meter butterfly, with a time of 56.85 seconds. "I was so happy that I stood on the block and did a little dance," said Smachlo.
Hrabchak set the other individual record in the 400-meter freestyle, with a time of 4:01.67.
"Matt's one of the premier distance swimmers in New England, and Miles is one of the premier butterfliers in the league this year as well," said Dr. Burke. "For them to beat those two records is an indication of how well they're swimming this year."