Schaus '06 Seeks Gold at Sochi
For Molly Schaus '06, goaltender for the U.S. Women's National Hockey Team, a gold medal is "the ultimate dream." The Deerfield alumna, who played on the national team in 2010, will have a second chance to pursue the first-place title at the Sochi Olympics, which begin February 7.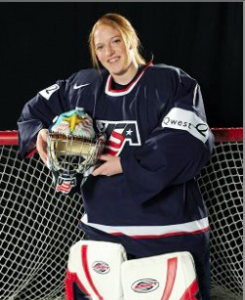 After placing second four years ago in Vancouver in a 2-0 shutout loss to Canada, Schaus and the entire squad, whom she refers to as a "big family," are eager "to play the best hockey we can."
Schaus recounted her hockey history, reminiscing about learning to skate on a Minnesota pond before joining an organized league in Illinois at eight years old. She "wanted to be just like [her] older brothers, tagging along with them and their friends." As for her position, she explained, "The only way they would let me play was if I played goalie, so I jumped at the offer."
After watching the USA Women's Olympic Team win gold during the 1998 Olympics in Japan, Schaus found her role models in players such as Cammi Granato, Katie King, Sarah Tueting and Sara DeCosta. That same year, she became a member of Team Illinois, the squad she remained with until high school.
As a freshman, Schaus began playing for Assabet Valley High School in Marlborough, Massachusetts. The following year she arrived at Deerfield. She commented about balancing an intense hockey schedule—she attended many camps run by the U.S. team and college scouts— with academic and social priorities at the Academy, saying, "I knew that I had to put just as much effort into the classroom asIdidontheicetofulfillmy dream of playing college hockey. At times it was definitely stressful, but I learned to manage my assignments well and to enjoy time with friends and family."
Schaus has benefitted from the support and expertise of many coaches during her career: "They all encouraged me to push myself on and off the ice, while always reminding me to have fun and love what I do." At Deerfield, she developed a particularly close relationship with Mr. Meier. She remains close with "a huge support system … [but he is] one of my biggest fans."
Meier returned Schaus's compliments with similar praise, saying, "[Molly] is unflappable- nothing fazes her and she held our team together." He added that Schaus "doesn't make spectacular saves, because she doesn't need to, being in the right position 90% of the time." The coach named Schaus captain and MVP her senior year, honoring both her competitiveness and grace as the team's only goalie.
Following her Deerfield graduation, Schaus spent four years at Boston College. Prior to her freshman season, she was also invited to try out for the U.S. U-22 Team. The following spring, she established her current spot on the senior national team.
When asked about her status as an Olympian, Schaus admitted, "The fact that I am a two-time Olympian hasn't sunk in yet. We still have a lot ahead of us in the next few weeks. Being a member of the 2010 Olympic team was such a huge honor. Even though we fell short of our goal of winning the gold medal, Vancouver was an incredible experience all around."
The knowledge and memories will certainly help the team as they play in Russia. "The Olympics are definitely different than our usual World Championships," asserted Schaus, "but at the end of the day it is just a hockey tournament, and we are focused on minimizing the distractions and just playing our best."
Schaus and her teammates are on the ice six days a week. In addition, they lift three times each week and have video and strategy meetings regularly. As a result, the group maintains an incredible closeness. Schaus elaborated: "We spend so much time together and have been through so many ups and downs that my teammates know me pretty much better than anyone . . . Being able to wear the USA on the front of our jerseys [together] is a bond that will never be broken."
Schaus and her teammates will soon don those patriotic uniforms with pride, representing their country at the world's most renowned athletic competition.