Lena Mazel: Nashville Living
After graduating last spring, Lena Mazel '13 made her dream of being a professional dancer come true. This year, Mazel is one of 16 girls dancing with the Nashville Ballet, the largest ballet company in Nashville, Tennessee. She is in the Professional Training Division, the highest level of the Nashville Ballet School. It allows students to gain professional experience and take classes at the same time.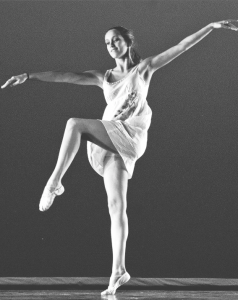 "We understudy some major productions with the company (Nutcracker especially) and take class every day from 9:15 a.m. to 3:30 or 5:00 p.m.," Mazel explained.
While at Deerfield, Mazel said she defined herself as a dancer, but coming to Nashville Ballet- where everyone is a dancer- changed that. "At Deerfield, there is a huge pressure to define yourself by what you do," Mazel said. "I had to redefine what else made me unique past those superficial categories."
Although Mazel loves Nashville Ballet, the transition was hard for her. Mazel said that she was accepted to the program for the strong training she received at home and at Deerfield, her contemporary training giving her more versatility, and the modern training during her senior year laying the groundwork for her classes now. However, she said, she was behind the company in her technique.
"At Deerfield, I was told constantly that I was a good dancer: although this was sweet, it also made me complacent and lazy about my technique," Mazel said. "I have no such luxury in Nashville. Although the artistic staff are nice people, they are sparing with praise and eager to rush to the next level with our technique and stamina. I am absolutely not used to this, except maybe with Stephanie Shumway's contemporary class; it's refreshing."
Mazel feels fulfilled knowing that she has accomplished the dream she has had since she was eight years old. She plans on attending Kenyon College in Gambier, OH, next year and auditioning for companies in the nearby Columbus area.
"I've gotten to live my dream of dancing with a professional ballet company," Mazel said. "I can move on now, if I need to."