Ju Hwan Park '14, one of Deerfield's most prominent singers and guitarists, has contributed greatly to the music program over the years.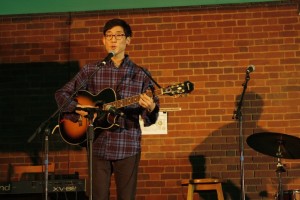 "Music is everything to me, so if I don't do it, I will die!" he has said.
At the age of five, Park started playing the violin in Korea, but after failing to get into his school's orchestra, he switched to percussion. In sixth grade, Park auditioned for Super Star K, Korea's equivalent of American Idol, but unfortunately did not make it.
"Now I look back and say, thank God! Because if I had made it, I never would have come to the U.S., or learned guitar, or been able to see the bigger world." Park said.
The transition to a Connecticut boarding school in eighth grade was a challenge for Park because he did not speak English well. So he immersed himself in music, exploring different genres and joining his school's rock band. Park still remembers his first performance, singing "Johnny B. Goode."
"I do not think any of my other performances were as powerful as that one," Park said. "People were surprised. Can you imagine seeing one of your friends who didn't speak English well singing an American song on stage? At first I was very nervous, but as I saw people's faces, I started to get excited."
Nowadays, the stage is like home to Park. "I feel much more comfortable now, which can be good, but I do not have that exciting, intense feeling that I had during 'Johnny B. Goode,'" he admitted.
At Deerfield, Park taught himself the guitar during his freshman year. "I had played music for a long time, so it was easy," he explained. "I really liked the guitar, so I literally played every day for the whole day." Park is self-taught on many other instruments, including piano, banjo, harmonica and ukulele.
"What I love about music is that it's a universal language," Park said. "So wherever you go, playing music works."
This idea has allowed him to share his music with the community and beyond, with faculty kids, elementary schools, senior centers, the streets of Korea and even in Italy. "Although I didn't speak Italian, Istillgottoknowalotofthe street musicians through music," he said. "It has given me a chance to get to know some amazing people."
Even with all his accomplishments in music thus far, Park is only getting started. He added, "I'm not sure about the future, but I know I will be doing music. Everything could go wrong in my life, but music will never leave my side."
Park sees being a musician as his ideal career. "Many people think it's too late, or they think I need some kind of special [star] power," he said. "But when I see all the musicians around the world playing music, I discover that I don't need any special 'power.' If I want to be a musician, I can be a musician."