Browne Brings Down the House
This year, when the boys varsity basketball team has needed to put up some points, they have often looked to Jesse Browne '14 to knock down a couple threes.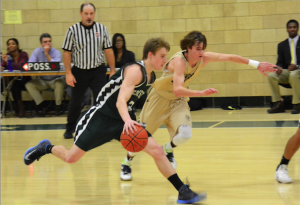 Browne, a postgraduate, began his career by playing games like knockout and P-I-G in the streets of Barrington, Rhode Island: a place he describes as "a small town with a big heart."
In the fifth grade,
Browne decided to give organized basketball a try and signed up for his local youth team, immediately taking to the sport.
"Playing basketball really turned out to be one of the better decisions of my life so far," said Browne. "I really like the back and forth nature of the sport. Say if you commit a turnover or miss a shot, you can always make up for it on defense or the next possession."
After playing through the rest of elementary and middle school, Browne made the Barrington High School varsity team his freshman year and quickly became one of its stars, leading his team to the state semi-finals his senior year.
"I'd describe myself as a good shooter who can put the ball on the ground, [dribble] if I have to," said Browne. "But in the end I'm a team-first player, and it's really just all about the win for me."
After his senior year, Browne decided to take a postgraduate year at Deerfield rather than go straight to college.
"Academics have actually always been more important to me than athletics, and I thought Deerfield would be a great place for me to get a quality education, play basketball and make myself more attractive to colleges," said Browne about his decision.
Browne has been very successful both on and off the court at Deerfield, and his teammates and coaches have appreciated his positive outlook and leadership.
Teammate Luka Petkovic '14 said, "He's funny and always tries to pick people up and keep things positive."
"I'd say he's kind of like a father figure for me," said Jack Damon '15. "He's always the one to crack a joke and keep my spirits up. As a teammate, you know he's someone you can trust with the ball, and he's going to make the right play."
On his future in the game, Browne, who will be attending Vassar College next fall, said, "Hopefully I stay healthy and play four years in college, but then after that I guess we'll just have to wait and see."