Deerfield Debates LGBT Rights in Russia
With the Sochi Winter Olympics starting next week, Russia has come under close international scrutiny for its recent legislation on gay rights.
In an interview given on January 17, Russian President Vladimir Putin attempted to send a reassuring message in a meeting with a group of volunteers at Krasnaya Polyana, the Olympic mountain venue. "[Gay athletes] can feel calm and at ease," he said. "Just leave kids alone, please."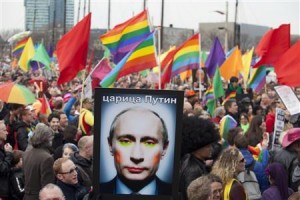 For many, however, his request that gay athletes "leave kids alone" was a reminder of the very law that first sparked the ongoing outrage in the western media over LGBT rights infringements in Russia.
The law in question was passed in Russia on June 30, 2013 with the consent of Putin. It banned distribution of "propaganda of non-traditional sexual relations" among minors. This bill was an amendment to an earlier piece of legislation protecting children from pornography and other "harmful information."
The intention, said Deerfield student and Moscow native Stepan Severov '15, is to prevent instances in which gays "force or invite children to join their sexuality." Severov went on to say, "My parents' policy is [that], as [long] as gays don't force our children to be gay, we have nothing against them."
Genevieve Gresser '15, President of the Deerfield Academy Gay Straight Alliance, strongly disagreed with the underlying assumption of the legislation against "gay propaganda."
"The notion that 'gay propaganda' will turn Russian children gay is ridiculous," Gresser said. "Being gay, or having any other sexual orientation, is not a choice. People are born with their sexuality, they can't just decide what to feel or whom to love."
Heather Liske, English teacher and advisor for the Gay Straight Alliance, agreed, saying, "There is the same mentality behind this Russian legislation that we see in U.S. white conservatives who try to ban sexual education from schools. There's this misconception that if you ignore something it doesn't exist."
In light of the Pussy Riot group incident in 2012, when three women were sentenced to two years in jail for singing anti-Putin songs at Russia's largest Orthodox Cathedral, the 2013 bill prohibiting "gay propaganda" seems to many a legislative threat to freedom of speech.
The bill also prohibits gay pride events on the premise that such events will expose minors to information about LGBT sexual relations.
Severov believes that this legislation is for the benefit of gays in Russia as well. Severov said, "Gay parading makes the situation worse. People [in Russia] don't like it when gays try to protect their rights aggressively."
But, asserted Gresser, "I draw the line when it comes to compromising who you are. No one should be ashamed of his or her sexuality. If you are gay, you should not have to censor yourself."
Legislation banning gay parades has raised concern for the safety and legal protection of gay athletes and supporters at the upcoming Sochi Olympics. As early as August of 2013, there have been multiple movements to try to change the 2014 Olympic venue, many of them pointing to Principle 6 of the Olympic Charter, which bans "any form of discrimination" by a host country.
An online petition addressed to the International Olympic Committee, states: "We appreciate your efforts in requesting Russia allow gay athletes to compete at the games, but this is not enough. The very nature of the original Olympics was to settle conflict through sport and not violence." The proposal was for the IOC to take this opportunity to uphold the spirit of the Olympics by removing the Games from a nation that tolerates "the abhorrent persecution of minority groups."
Gresser believes that holding the Olympics in Russia can be an opportunity rather than a threat to gay rights. "Though I don't like the idea of bringing business to a country violating basic human rights, having the Olympics in Russia has also brought a lot of attention and scrutiny to Putin's anti-gay laws," she said.
Gresser emphasized, however, that in order to make the Sochi Olympics a worthwhile enterprise, "Olympic athletes should voice their opinions . . . ready to face the consequences of violating the IOC's rule." The rule she refers to is one that has been a fallback for the IOC when questioned about the rights gay athletes will or will not enjoy during the Games. The rule, which is part of the Olympic Charter, prohibits "political" demonstrations and statements by athletes at the Games.
Anastasia Smirnova, coordinator for a coalition of Russian LGBT organizations, responded to the IOC with, "This is about identity, not politics. Sharing your identity is not political."
On Russia's part, however, there have been accusations that the western media is having a field day with Russian LGBT rights for reasons that are less than innocent. Severov, too, protests how closely the Western media has been following Putin and the Russian government. "It's true that many Russians don't like gays," he said. "But [anti-gay sentiment in Russia] has nothing to do with government politics. It's more cultural."
As the Sochi Olympics approach, more and more stars familiar to American audiences have been openly criticizing Russia's anti-gay legislation. Among them is Tilda Swinton, an Academy-Award winning actress who released a picture of her holding a rainbow flag in front of Moscow's Kremlin. Included was the note, "In solidarity. From Russia with love."
The American government's reaction to Russian legislation has been a matter of both national and international interest. President Obama drew attention in July of 2013 when he cancelled a meeting with President Putin. White House Press Secretary Jay Carney announced a "lack of progress" with Russia on a variety of matters including human rights and civil society issues as part of the reason for this diplomatic jab. Obama went on to criticize Russia's discriminatory laws on The Tonight Show, stating that he had "no patience for countries that try to treat gays or lesbians or transgender persons in ways that intimidate them or are harmful to them."
The composition of the United States' official delegation to the Sochi Olympics seems to many a pointed message to Russia on President Obama's part. There are three openly gay athletes in the delegation, among them tennis legend Billie Jean King. King, a two-time Olympian and a winner of 39 Grand Slam titles, said in an interview with The Washington Post, "I think our presence is really important . . . I take this very seriously. The responsibility to stand and possibly speak for those who don't have a voice runs deep."
Severov said of both domestic and international calls for Russia to change its legislation on gay rights, "Russia is not ready right now."
Ms. Liske responded by quoting Martin Luther King, Jr.: "[King] once said, 'Time itself is neutral. It can either be used destructively or constructively.' This is to remind us that the passage of time in itself will not create a better time yet to come. And those who stand silent are just as guilty as the perpetrators."
Many high-profile appeals by individuals have also been made to change the Olympic venue. Immediately following the passage of the 2013 bill prohibiting "gay propaganda," British actor and writer Stephen Fry published an open letter to the British Prime Minister and the members of the International Olympic Committee. He chose to draw comparisons between the upcoming Sochi Olympics and the 1936 Berlin Olympics. Adolf Hitler, then Germany's head of state, had only two years before he passed "an act which singled out for special persecution a minority [Jews] whose only crime was the accident of their birth."
Fry warned, "Putin is eerily repeating this insane crime, only this time against LGBT Russians . . . Sports do not exist in a bubble outside society or politics. The idea that sport and politics don't connect is worse than disingenuous . . . 'Politics' is simply the Greek for to do with the people."