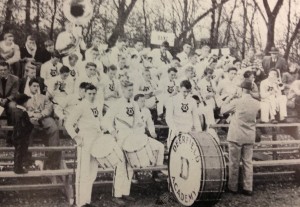 "School spirit is something that completely distinguishes Deerfield from peer schools and even colleges. There are not many institutions that have as much prominent school pride as Deerfield. However, there has been a visible decline in this spirit. Students aren't getting rowdy at school meetings, people skip dances, and there are a lot of teams that go unsupported. This poses the question, are we really the rowdy Deerfield we say we are?"
– Maggie Shilling '14.
In recent years, many have noted a shift in the importance placed on school spirit. Although we continue to uphold school traditions such as Choate Day, more and more it seems that pride for Deerfield does not serve as a unifying force in our community, but as a topic of apathy, confusion and conflict. Instead of coming together with pride for the Academy, some students choose to opt out of engaging in school spirit. Consequently, this has led to events such as pep rallies and social gatherings seeming burdensome. Rather, these should be viewed as an opportunity for community unification over a shared love for Deerfield.
Leslie Francois '12, former Head Cheerleader, reflected on his experience: "I think school spirit is important because it helps bring together groups that are separated on campus. That being said, I realized there was a drop in school spirit as I got older there, which made me
sad. That meant we were losing a form of unity."
The continuation of upholding Deerfield's honor has a direct effect on the school's future. Underclassmen frequently look to their older peers for guidance, and will reflect the sentiments they see in them. If younger students sense an upperclassman feeling of satire and boredom, they will act accordingly, creating a domino effect in the general attitude toward school spirit.
Former Captain Deerfield William Hess '12 said, "Deerfield is an amazing school within itself, but the way the students view the institution as a whole really boils down to how every member of the student body loves supporting Deerfield above all else and how each individual member truly feels loyal to their school and wholeheartedly loves being a member of its community,"
In order to truly embody the passionate, enthusiastic community Deerfield strives to be, it is necessary for every student to step up and accept his or her role. The time we are given at Deerfield empowers us to represent the people who have come before us, as well as continue to help Deerfield develop and grow into an even better place than it already is. Thiscanonlybedoneifweasa student body sustain and defend the spirit and pride of our school, and the values of our heritage.