Michaels Trots to Triumph
As wide and diverse as the co- curricular options may be, there are always those few students whose passions and ambitions cannot be satisfied by what's offered. Sophie Michaels '16 has had a passion for horseback riding since she was four years old, but Deerfield Academy does not offer it as a co-curricular option.
"I love horseback riding because it's a sport that constantly pushes me to improve and set goals for myself," said Michaels. "I also love the relationship between the horse and rider and how much it can affect the extent of achievement."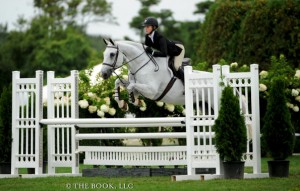 As she got older, Michaels began pursuing her passion through competition, and she now competes in several events. In the junior hunters she must be "even and smooth," and she and her horse are judged on how well they jump. She also does another equestrian event in which the rider must ride her horse through a complicated course with tight turns and uneven lines while maintaining perfect form. A third event Michaels competes in is a timed "race" over jumps called jumpers where riders are given penalties for hitting bars.
Michaels has been quite successful and won a variety of these events at many different levels. She competes in AA shows on both the national and international level in New York, Pennsylvania, Washington D.C., Florida and Canada. Throughout the year she acquires points at various shows to qualify for national final shows.
In an effort to maintain and further her high level of competition within the sport, Michaels has received a co-curricular exemption to fulfill her passion for horseback riding during the winter term. She also pursued this exemption last year. Her schedule consists of driving to East Granby, CT, every Wednesday and spending most weekends in Florida to compete, while focusing the rest of her time on academics and other interests.
In order to perform well in competitions, Michaels has been forced to subject herself to a rigid schedule. "While in Florida at the Wellington Equestrian Festival, I get up at 5:30 a.m. to warm up my horses and prepare them to compete in classes throughout the day," she said.
Despite all the stress riding puts on her, Michael's final words were those of praise and thanks to Deerfield Academy: "I feel so lucky to have the opportunity to go to Deerfield and participate in team sports. Being here allows me to both ride and experience being on a team sport in other seasons, which is one of my favorite aspects of Deerfield."