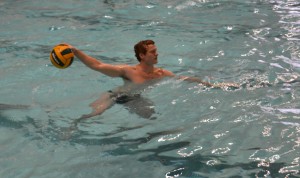 Conor started playing water polo at the Eaglebrook School when he was 12. "I didn't have a fall sport at the time, and my dad said if I played soccer he wouldn't come to any of my games," said Conor, "so I decided to give water polo a shot." Ever since, he has been regularly attending water polo camps, including the ones at Harvard and Brown.
During his ninth-grade year at Eaglebrook, in his final game against Deerfield, Conor scored 10 goals against Deerfield's JV team, and Eaglebrook emerged victorious, winning 12–10. "It was the only time in my four years at Eaglebrook that we had won against Deerfield," said Conor. At the end of the season, Conor had scored 68 goals in the 8-game season, shattering the previous record of around 45 goals.
"In a typical game, I would expect Conor to score several goals, make key defensive plays and lighten the mood with funny and inspirational comments," said Charlie Ughetta '15. In the fall season of 2012, Conor scored an impressive 67 goals. Recently he has played for an 18-and-under summer club team in Greenwich, Connecticut, and his team qualified for the 2013 Junior Olympics, finishing 11th in a division of 54 teams.
Sullivan's teammates recall a particularly amazing goal he had against Choate. His body was facing up, almost parallel to the surface of the water, when a wet pass landed near his feet. He couldn't move his upper body and reach the ball with his hands. The goalie swam out to retrieve the floating ball, but a moment before he could grasp it, Sullivan kicked the ball over his own head and into the back of Choate's goal.
"It was unlike anything I had ever seen," said Quinn Smith '14, the team's captain. "He's one of our biggest and most talented water polo players. His position (the hole) is essential to our success as a team," said Smith.
Though Sullivan is one of the team's top goal-scorers, coach Mark Scandling also mentioned his role as a team player. "Conor doesn't only make great shots; he makes great passes," said Mr. Scandling.
Conor said that, as always, the season's objective is to make it to the championship game. "We need to all have the same reason to get into the pool every day," he said. "Not for personal stats, but because you know that every guy jumping into that pool needs you to accomplish the one goal we all share: winning that last game."