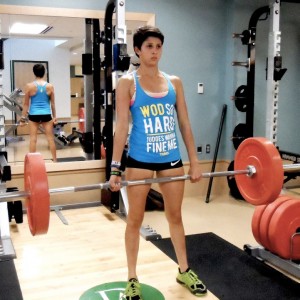 A new arrival on Deerfield's campus, Claire Petrus '16 brings with her both an enthusiasm for CrossFit and a strong dedication to leading a healthful lifestyle.
CrossFit is a rigorous exercise program that incorporates a combination of weightlifting, sprinting and gymnastics. Specifically, its components include Olympic lifting, powerlifting, metabolic conditioning and cardio.
Overall it is focused on functional fitness that can be applied to all physical aspects of life. So far, Petrus has applied her CrossFit skills to cross-country, a sport she took up just this year. In the team's first race of the season, the Brush Invitational, she came in first place out of 50 girls in the underclassman division.
In the winter, Petrus hopes to get a sports exemption to do CrossFit; but if not successful, she will play hockey, and run track in the spring. Even without the exemption, she plans on continuing her passion. She aims to travel to a CrossFit gym in Northhampton or Hadley at least once a week, while keeping up with her lifting on her own.
In addition, she has founded a CrossFit club to help grow the sport here at Deerfield. The CrossFit club meets at 10 a.m. every Sunday. "I wanted to bring my love of CrossFit to Deerfield," she said. Petrus is exploring the possibilities of either taking a van to a CrossFit class or having a trainer come to the school.
She strongly advocates for the program and its growth, and notes that many people have already inquired about the club's first session.
Seven people participated in that day's intense workout, which consisted of six stations, including burpees, push-ups, sit-ups, air squats, jump rope and box jumps.
To complement her fitness program, Petrus follows an unconventional and strict diet known as the Paleo Diet. Also referred to as the "Caveman Diet," the Paleo Diet is based on the foods early humans ate. She doesn't eat grains, sugar, soy, dairy and legumes.
Petrus says that since she started the diet five months ago she already feels healthier and stronger.