Ms. Whitcomb Finds New Rhythms on Sabbatical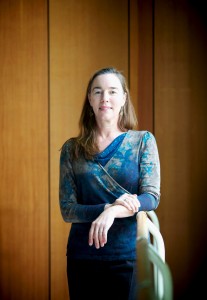 After a yearlong sabbatical, Visual and Performing Arts teacher Jennifer Whitcomb is back at Deerfield Academy. Traveling to different parts of Latin America, the Caribbean Basin and New York City over the course of the year, she became certified in different dancing techniques and reconnected with past teachers.
Ms. Whitcomb started the year in Puerto Rico, where she attended the. 16th World Salsa Congress and participated in certification workshops in Afro-Antilles folkloric dance forms and Puerto Rican salsa. Ms. Whitcomb said she learned about the history and theory of salsa as well as more advanced salsa moves.
Her next stop was New York City. She stayed for two months and studied with Lynn Simonson, one of her first dance teachers, whom Ms. Whitcomb hadn't seen for decades. "Lynn was one of the reasons that I decided to become a professional dancer," said Ms. Whitcomb. "She is about to retire, and I really wanted to get certified in her technique and become a Simonson Technique teacher. So I spent a couple of months in New York doing that, and I completed the certification."
Along with 20 other alums, Ms. Whitcomb visited her high school, Cambridge School of Weston, where they held a performance tribute for her very first dance teacher, who retired last year. Ms. Whitcomb said her sabbatical year was an opportunity for her to reconnect with her past teachers and to reach back to the past, forget about the present and look forward to the future.
Ms. Whitcomb also reconnected with some of her favorite outdoor activities, including kayaking, hiking, skiing, swimming and horseback riding. "Two years ago, I supervised Angie Cabral's riding exemption, and I started missing horses again," she said. "To my complete surprise, a horse came into my life. I had a friend who gave me her horse f or a year. That was another element of reaching back into my past."
Despite her recent return, Ms. Whitcomb already has hopes to help make the Arts Department more visible at Deerfield. She and her students are focusing on finding the opportunities that the challenges of this transitional year are presenting.
As she traveled in Latin America and the Carribean Basin, she was intrigued to find that dance was an integral part of those cultures. She enjoyed learning dance forms in which everyone participates. Ms. Whitcomb also plans to build Latin American and social and folkloric dance into Deerfield's dance program this year.
"During the time I was gone, things have improved. I came back to a really bolstered dance program, and it's all polished up, thanks to Crystal Nilsson and Carrie Towle," she explained. "I had a lot of fun during my sabbatical year. I'm rejuvenated, refreshed, and excited to be back in the studio!"