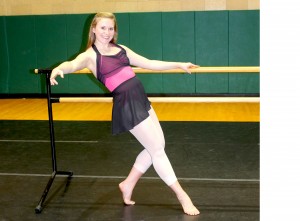 As a four-year senior, Maegen Killeen '14 has contributed much of her time here to Deerfield's dance program. This past summer, Killeen participated in the highly selective Joffrey Ballet School Jazz and Contemporary Summer Intensive in New York City.
When she was four, Killeen began her training at the Hackworth School of Performing Arts in Easthampton, Massachusetts, where she studied tap, jazz and ballet. At seven she moved to the Pizazz Dance Studio in Greenfield and began competing in jazz, hip-hop, tap, modern and contemporary dance.
Although Killeen now considers herself mainly a contemporary and modern dancer, she is still committed to other styles. "It is important to be a well-rounded dancer in the professional world today," she explained.
The program this past summer was at Pace University, and she worked daily with professional dancers around the city. "We were exposed to the dance world in the city every single day," Killeen said. "And that kind of experience is truly necessary for anyone wanting to become a professional dancer."
The most rewarding part of her experience was interacting with the teachers: "[They] are incredibly wise. Just as a teacher at Deerfield might be proficient in math, dance teachers have a wealth of knowledge about their [profession.] I feel as though they see and hear things sometimes that even I, as a dancer, don't experience," she said. "They have so much passion for what they do, and it is amazing to listen to them share their appreciation for the art. This was probably the most effective part of the program for me."[pullquote_right]"Honest and natural movement can force you to explore uncomfortable places within your soul… you learn so much more about your capability, not only as a dancer, but also as a human being."
-Maegan Killeen '14[/pullquote_right]
Throughout her years of dance and during the summer program, Killeen has gained confidence. "If you take a second and listen to your body, it's amazing the things that it can reveal. Your body inherently desires to move and to rid itself of anything that makes it feel less confident or powerful."
Killeen hopes to achieve her dream of becoming a professional dancer. She explained how dance is not only a passion and art form, but also an outlet of self-awareness and emotion.
"Honest and natural movement can force you to explore uncomfortable places within your soul. No one wants to go back to a place where you felt guilty or sad, but usually with the energetic environment and music, your body ends up there. [Your body] is forced to face emotions that are really hard to express in words," she said. "However, if you are the one ridding yourself of these feelings and you are the one fighting back, rather than a friend or parent giving advice, you learn so much more about your capability not only as a dancer, but also as a human being."