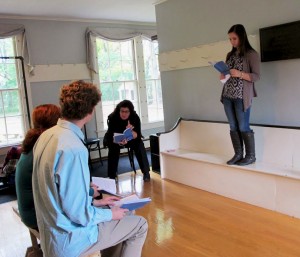 This fall, Deerfield's theater program will be putting on a production of the romantic comedy Almost, Maine by John Cariani. Set in a mythical town in northern Maine, the play is an ensemble piece that features a group of people and how they all find or lose love.
The 19 roles are filled by 15 Deerfield students: Annie Bronfman '15, Will Darling '15, Jackson Lanning '14, Dorie Magowan '15, Sarah Jinich '15, Devon Bierut '17, Amanda Deskavich '16, David Darling '16, Cody Anderson-Salo '14, Theresa Lucier '15, Vishawn Greene '17, Sidney Hulburd '14, Querube Suarez-Werlein '14, Nhyira Asante '16 and Cat Wyatt '14. The stage manager is Hailey Nuthals '14 and the musical director is Maggie Yin '16.
The production will be Deerfield Academy's first-ever performance in the White Church. Ms. Hynds is looking forward to working in a new environment. "We are going to meet every challenge that the venue presents to us," she said.
One of the challenges is that the actors will not be performing on a stage, but rather in "the round," where they will be surrounded on all sides by the audience. "This presents a challenge to the actors because they have nowhere to hide," said Ms. Hynds.
With the guidance of Paul Yager, the technical director and designer, the technical team is working to transform the White Church. Spoiler alert: their biggest undertaking is the task of recreating the Aurora Borealis (Northern Lights) above the set.
For this production, the experienced actors are required to help direct a scene that they are not performing in. "I'm super-excited to get the opportunity to direct this term," said Sarah Jinich '15. "Being on the directing side of things, you have to have a sense of the bigger picture of a scene. Each actor is mostly responsible for him or herself, but the director has to figure out how each actor's individual style will work with the others'. It's really interesting to see how actors with different strengths challenge each other, and mutually strengthen each other's weaker areas."
Ms. Hynds explained the amount of hard work that goes into creating these productions for our community. "These productions aren't just my babies-there are many other people who have devoted so much time and effort to making them the very best they can be. It is a huge team effort every term," she said.
Almost, Maine opens on Tuesday, October 29th and will run until November 2nd.