A Summer at The Island School is No Vacation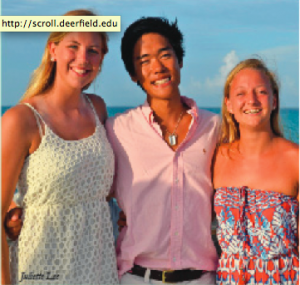 Located on the southern tip of the island of Eleuthera in the Bahamas, The Island School has recently become a popular semester program for Deerfield students. Founded in 1998, the school set out to save endangered marine life by providing alternate food sources for inhabitants of the island.
Now The Island School is comprised of a research institute, a middle school for locals, and a term-abroad program. As the school expanded, its mission evolved. Today The Island School's aim is to instill a sense of place, sustainability and community while preparing students for a more informed future.
This past summer Ken Park '15, Juliette Lee '14 and Catherine Fleming '15 attended the school's summer semester, which focused on human ecology, tourism and development, and marine ecology. All three explained that they heard rave reviews from other Deerfield students and reached out to Mr. Miller and the Deerfield Global Studies Office for help in applying.
"I filled [out] an application," said Park, "and I got in. But I didn't know that it's really competitive to do so. Around 120 kids applied, and only 38 got in. But Deerfield sends a lot of kids. No other school sent three kids."
After the initial excitement died down, students were introduced to the school's strict rules. "At first I was very reluctant to adhere to the rules at the school," said Park. "Phones were taken away, no Internet was allowed, and we slept in a big open space with bunkmates. No air conditioners to be found anywhere on campus."
Students at The Island School have a rigorous course load. The two ecology classes and the tourism / development class make extensive use of the local environment. Rather than learning solely from readings and classroom lectures, students are encouraged to explore and make observations based on their surroundings.
In addition to academics, The Island School places strong emphasis on physical discipline. Students are expected to wake up at 6:30 a.m. and participate in intensive workouts.
"Our last exercise was a monster run and swim," said Park. "We had to run this grueling course that involves five miles of running and two miles of swimming. I got lost, and ran an extra mile with five other kids," said Park.
The culmination of this exercise regime was a 24-hour solo trip. As Lee explained, "Each student experiences a solo on one of the Cape Eleuthera beaches with limited resources (i.e., a small bag of granola, six liters of water), and survival necessities including a tarp and a bug net."
"I nearly went insane on the last three hours of my 24-hour solo," added Park. "I drank lots of water, and I ran out of it when I was sleeping, because it was so hot. I didn't even sleep because of the bugs. My skin felt like it was literally going to rip off if I had pinched it. I also talked to myself, which was really common among the kids who went on a Solo. I also cried a lot because I got emotional, but again lots of kids do."
"What separates the Island School from others is the emotional aspect of it," agreed Fleming. "For example, the school stresses that in order to make a change you need to know your role in the system; thus, it not only is a school but also a community you become a part of so quickly."
In many ways, The Island School requires even more discipline than Deerfield. "Lights out for everyone at ten o'clock, no exceptions," explained Lee. "Morning circle began promptly at 6:30 a.m. before morning exercise. During morning circle, both students and faculty sing the Bahamian national anthem and share announcements for the upcoming day; evening circle began promptly at six a.m. However, in other ways, the Island School is much less structured than Deerfield: there are no sit-down meals, students address teachers by first name, and there is time each day for students to explore the island freely."
"I believe that the idea of attending school in The Bahamas is appealing for Deerfield students, due to the attraction to the sun, sand and sea," said Lee. " But the Island School is much more than that and mustn't be seen in such a regard,"
"Anyone will love it as long as they are willing to change, but it's not easy," concluded Park. "A lot of things are thrown at you, and the materialism that we all live with at home is completely gone there."