Not Just a Face Highlights more Community Members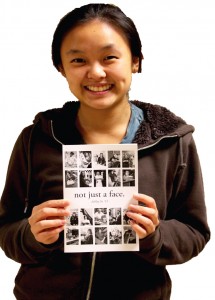 This past winter term, Ashley So '13 spent an exemption creating a second edition of her book Not Just a Face. The book is complete with 55 biographies, 40 of which are completely new additions. "The first time I only covered 15 people, so that's very little compared to the 200 staff here," So said. "When you start a project, if you have the opportunity to grow it, you should always go for more."
Therefore, So was also motivated to write another book due to the amount of students who had not had the chance to read her first edition. "It's a new year, it's a new bunch of students, a lot of whom didn't get the chance to read the first copy," she explained. "I wanted to make a bigger mark."
There were three main goals So wanted to accomplish. "I wanted to make people learn to see that there is more beyond their immediate situation, to allow as many people to get to know these people first hand," and lastly, "to encourage others to do the same."
She enlisted the help of eight volunteers for this edition, including Katlo Gasewagae '13 and Tan Sertthin '13. While the project itself was essentially the same as it was last year, the process was very different because So was no longer on her own. "I was really excited to have all these people helping me," So reflected.
Despite the challenges the second edition presented, So loved writing both books. "It was worth it," she said. "Personally, I think this book also really helped me. I am friendly with people, but I'm not the one who would go out of my way to get to know someone, so this was a teaching tool."
Although So is graduating, and leaving two editions of Not Just a Face behind, she "wishes we could have done more. There are so many more people who deserve to be recognized," she said.