For years, Captain Deerfield has been a hallmark of Deerfield Athletics.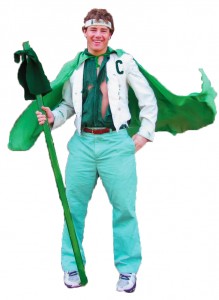 He can be found on the sidelines of most big sports contests, dressed in a white sports coat, lime green pants and majestic cape. A spray-painted broom shaft rests in his right hand, an embellished megaphone in the other. But for the coming 2013-14 school year, the position will undergo several changes as mandated by the administration.

Captain Deerfield is currently the only public role for students elected not by peers, but rather named each year by his predecessor. This spring, current Captain Deerfield, Chris Merrill '13, met with Dean of Students Amie Creagh and Head of School Margarita Curtis to discuss the fate of the position. "The school seemed very adamant about making Captain Deerfield an elected position," Merrill said. "They have had this plan for quite a while now, so there was really nothing I could do about it."
"We thought it made the most sense to have Captain Deerfield be elected–just like other club officers and members of Student Council," Ms. Creagh said. "This is another question of equal access and opportunities for all students, an important area of focus for Deerfield right now." Ms. Creagh also pointed out that there has never been a female Captain Deerfield.
The administration has not yet determined whether Captain Deerfield will be elected by the whole school or by the current cheerleaders.
"Captain Deerfield should represent what the kids want," said Brian Kagame '16. "So if the kids come together and vote for one person, I think it's better."
"I will not be passing down the Captain Deerfield outfit to the newly elected student, and I have chosen to remove myself from the election process," Merrill said. "As far as I am concerned, it is not the same position. And the tradition of Captain Deerfield, as many of the school's current students and graduates have known it, is over."
"Although I understand the reasoning why the administration has decided to make Captain Deerfield democratically elected," Thomas Cowan '13,concurred. "I think that his role and position in the school will change dramatically as a result."
Others feel as though Captain Deerfield's current role is too limited and are hopeful that changes will extend the duties. "I feel like he is only involved until Choate Day," Jason Bravo '15 said, "and then he fades away."
Dr. Curtis acknowledged the feedback, saying, "My hope is also that Captain Deerfield's role is not limited to generating school spirit and cheering on Choate Weekend, but that he or she can model great community spirit throughout the year."