Spring Fever is Contagious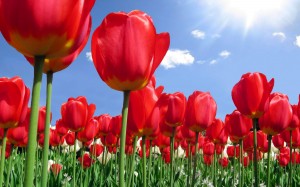 If you're a new student this year, you have probably heard a lot of talk about Spring Term. With so much hype, it is easy to wonder what all the fuss is about.
"I don't know why, but everyone seems much happier [during the spring term], myself included," said Nick Goss '13. "For most people it's a combination of the river, weather, and sports."
While new teams, warmer weather, and different classes occupy us all, there are many changes that come with the arrival of spring. However, there is one change in particular that many are looking forward to: the coming of "River Season."
"When it's warmer, people will go down if they have a free period, don't have a co- curricular," said Maggie Shilling '14. "Or if it's a Sunday, they lie down on towels or in bathing suits. Some people even do work and hang out with friends. All freshmen [should] go down to the water."
"The river is a great spot to hang out after practice or on a Sunday," echoed Goss. "The water is always perfect… Some kids buy rafts or bring frisbees and footballs… Every year someone comes up with something new to do. It's so much fun."
In addition to the river, there are many other things to look forward to this term, one being the Hoedown Dance. "Hoedown is really fun because the girls ask the guys," said Allie Hrabchak '15.
"Although there's not as many Greer dances [in the Spring], Hoedown is really fun. There's also Senior Prom and Junior Prom, which I heard is a really great class-bonding experience," added Shilling.
Whatever you are up to this term, there seems to be something for everyone to look forward to. No wonder everyone seems to be happier in the spring.