Morsman Leaves Long Legacy in Deerfield Sports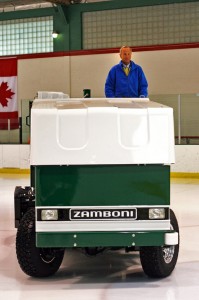 Fifty-three years ago, Mr. Jay Morsman '55 returned to Deerfield to teach. Upon his return, Mr. Morsman also assumed leadership of the Boys JV Tennis team. He continued coaching JV until 1985, when he took the reins of Deerfield's Boys Varsity Tennis. This year marks his final year as a coach at Deerfield.
In his time at Deerfield, Mr. Morsman has also coached Boys JV Hockey, Boys Varsity Hockey, and various levels of Boys Soccer. Passion, pride, and results have always defined Mr. Morsman's years as a coach. "We work hard, improve and have fun," he said.
"He knows exactly what to say after a tough shift or in between periods, no matter the circumstances of the game," explained Walt Gahagan '13.
Mr. Morsman has led Deerfield teams to just short of one thousand victories in his time. He partially attributes his success to rigorous conditioning and his athletes' attitudes.
"Coaching with Mr. Morsman has been a special privilege," said Science Teacher Toby Emerson, who coaches JV hockey with him. "In addition to being quite knowledgeable about hockey, I have never met a member of this community who loved working with teenagers more than Mr. Morsman. He is fun, light, but will also demand effort and commitment from his kids. I could sit next to Mr. Morsman for hours on a bus listening to stories about Mr. Boyden. He loves this school and he sincerely wants everyone else to love it as much as he does."
"[Fourths Soccer] with Mr. Morsman was definitely the most memorable team I've ever been on at Deerfield. It was a great time," said Kitan Irukera '14.
"I have had 53 years of fun," Mr. Morsman added. Some of his most memorable moments include the end- of-season party JV hockey threw for him this year and his time spent with the 1996 Varsity Tennis team, which he described as the "best team in school history."
His tennis teams have captured four Kingswood-Oxford tournaments trophies, two New England titles and one National championship. This year's team, led by captain Justin Schlacks, is equipped to achieve similar success.
"[This year's] returners include captain Justin Schlacks '13, Gil Roddy '14, Cole Horton '14, Luke Therrien '15 and Adam Ellison '13," reports Mr. Morsman. These returners are supported by freshmen stars Darren Ho '16 and Lorenzo Munoz '16, who "give us strength at the five and six positions."
Mr. Morsman's upcoming retirement has spurred the team towards early successes at Groton and Longmeadow. "It's definitely motivating," explains Gil Roddy '14. "We really want to give Morsman a good last ride."
"I could not ask for a better man to guide me throughout my four years at Deerfield," said Gahagan. "Mr. Morsman has played a vital part in my love for both hockey, and Deerfield as a school. Thank you for four great years."