Chamber Singers Enjoy a Harmonious First Year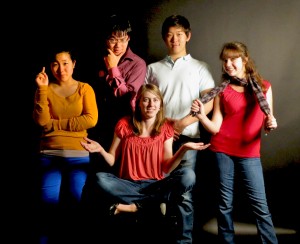 The Chamber Singers began this fall as Music Director Daniel Roihl's experiment. Mr. Roihl handpicked singers Sierra Janik '13, Chris Lin '13, Julie Harris '13, Hyun Yang '13 and Kristy Hong '13 for the group.
Mr. Roihl chose the students for their high level of musicianship, music independence and vocal characteristics in order to create a smaller, but more focused ensemble.
The Chamber Singers met four days a week in the fall term, practicing for a two-hour stretch each day. In comparison to the typical forty-five minute period given to students who participate in a chorus class, the singers were able to "generate a lot more momentum," said Mr. Roihl.
Many of their performances were also off-campus, including
the recent airing of their song "Chile Con Carne" in the Together in Song choral competition on WGBY-TV. In particular, Mr. Roihl values the group's accomplishment of recording a CD (DA Beats), which was produced in conjunction with a cappella groups the Mellow D's and Rhapso D's and sold earlier this fall. "The recording pushed the singers (as well as the two other acapella groups) to perform at a higher level and make something they could be proud of," Mr. Roihl said.
With hours of practice, months of dedication, and a common commitment to excellence, the Chamber Singers surprised even themselves after performances. "It was really cool to be able to step back and realize that we did this… Mr. Roihl helped… but it was great to feel that we did this ourselves," said Sierra Janik '13.